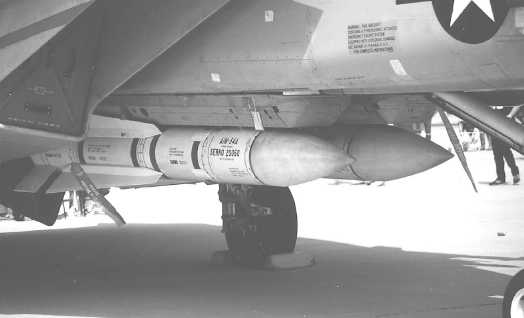 Characteristics of the Poseidon:
Length:
34 feet
Diameter:
74 inches
Weight:
65,000 pounds
Range:
2,500 nautical miles
AIRBORNE WEAPONS
In  today's  high-performance  aircraft,  the  trend  is
toward versatility by means of rockets; bombs; missiles;
and, in some aircraft, guns. The Navy's Research and
Development   team   is   constantly   seeking   ways   to
improve   existing   airborne   weapons   while   working
simultaneously  on  new  weapons.  This  section  briefly
describes some of the existing airborne weapons.
AIR-TO-AIR MISSILES
The  Navy  uses  four  air-to-air  missiles.  These
missiles     include     the     Sparrow,     Sidewinder,
Phoenix, and AMRAAM.
Sparrow
Although   earlier   described   as   a   surface-to-air
missile, the Sparrow missile is also used as an air-to-
air  missile.  In  this  role,  it  provides  Navy  fighter
aircraft with air superiority in a hostile environment.
Sidewinder
The Sidewinder air-to-air missile (fig. 20-6) is a
short-range,  dogfight  missile  used  by  all  Navy
fighters    and    attack    aircraft    against    hostile
aircraft.
The   Sidewinder   is   one   of   the   oldest,   least
expensive,  and  most  successful  missiles   in   the
entire  U.S.  weapons  inventory.  The  prototype  of
this  heat-seeking  missile  was  fired  more  than  30
years  ago;  since  then  various  versions  of  it  have
been  produced  for   more   than   27   nations.   The
latest    version    has    a    significantly    improved
infrared countermeasure capability.
Characteristics of the Sidewinder:
Length:
9 feet, 5 inches
Diameter:    5 inches
Wing span:  2 feet, 1 inch
Weight:
195 pounds
Speed:
More than 1,900 miles per hour
Range:
More than 3.5 nautical miles
Phoenix
The   Phoenix   missile   (fig.   20-7)   is   an   all-
weather  air-to-air  missile  designed  to  destroy
134.56
Figure 20-7.—Two AIM-54A Phoenix missiles mounted on the undercarriage of an F-14A Tomcat aircraft.
20-9