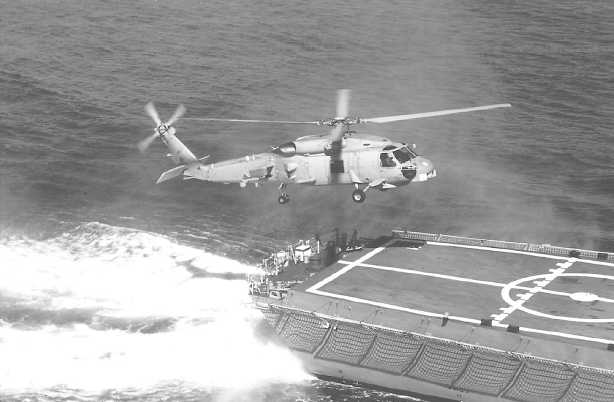 In  addition  to  these  combat  system  improve-
ments,  on-board  training  devices  are  installed  to
support   combat   information   center   (CIC)   team
training  exercises.  The  ASMD  program  furthers
the  improvements  provided  by  the   ship's   anti-
missile   integrated   defense   (SAMID)   immediate
program by expanding ship capabilities to counter
antiship   missile   threats.   The   ASMD   program
integrates  additional  subsystems  into  the  combat
system.  It  makes  use  of  expanded  tactical  data
processing    techniques    by    providing    a    fully
automatic   method   of   responding   to   particular
antiship missile threats.
The gun weapons system supports that element
of the ship's mission requiring offensive operation
against air, surface, and shore targets. It provides
this  support  through  its  ability  to  destroy  these
types  of  targets  at  ranges  within  the  minimum-
range capability of the guided-missile systems.
As  in  other  types  of  warfare,  successful  AAW
operations   must   be   based   in   part   on   lessons
learned  through  costly  experience  and  must  be
practiced continually.
ANTISUBMARINE WARFARE
The   basic   elements   of   the   Navy's   antisub-
marine   warfare   (ASW)   forces   include   surface
ships,  aircraft,  and  submarines.  The  integrated
undersea  surveillance  system  (IUSS)  is  also  an
integral part of our ASW system. This system cues
our engagement forces to respond quickly to ASW
tactical   areas.   These   elements   are   capable   of
operating independently or with each other.
The basic mission  of  antisubmarine  warfare  is
to   deny   the   enemy   the   effective   use   of   sub-
marines.   We   must   go   beyond   what   we   have
learned in the past by developing new  techniques
to match the expanding role of the submarine. The
long-range   nuclear-missile   capability   of   today's
submarines requires that we do more than prevent
submarine  torpedo  attacks  on  our   shipping  and
naval  vessels.  Instead,  we  must  find  and  keep
under  surveillance  all  enemy  submarines  before
they  can  reach  a  point  within  missile-launching
range of our coasts.
SURFACE UNITS
The surface ship has a  greater  variety  of  both
detection equipment and weapons than any other
ASW unit. A prime advantage of the surface ship
is its ability to conduct all-weather operations and
to remain on station for a comparatively long time.
Our most effective ASW surface ships today are
frigates,  destroyers,  and  cruisers  equipped  with
SH-60B LAMPS helicopters (fig. 12-4).
109.17
Figure 12-4.-An SH-60B Seahawk helicopter in flight near the stern of a guided-missile frigate.
12-13