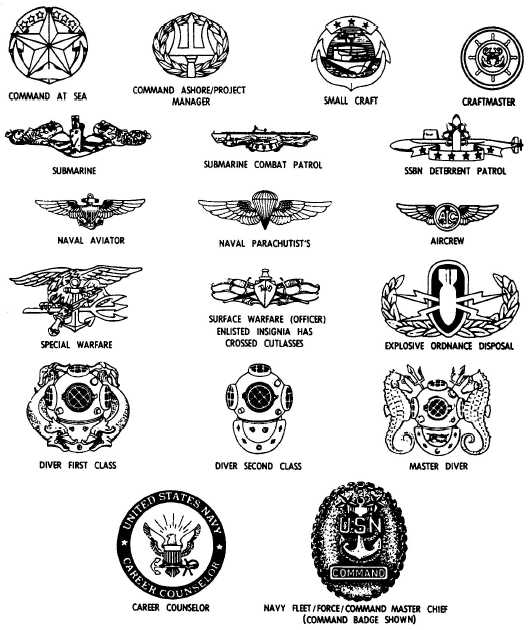 Figure 9-16.—Breast insignia.
SSBN Deterrent Patrol

insignia. Gold stars mounted
on    the    scroll    indicate    each    successful    patrol
subsequent to that for which the original insignia was
awarded.
Personnel   qualified   in   various   classes   of
diving wear the

Diver

insignia.
Figure  9-16  shows  the  identification  badges
worn  by  command,  force,  or  fleet  master  chiefs  and
command career counselors.
The  insignia  worn  by  officers  and  enlisted
personnel  are  identical  with  the  exception  of  color.
Officers  wear  gold  insignia;  enlisted  personnel  wear
silver.
In   addition   to   the   foregoing,   naval   astro-
nauts,
aerospace
physiologists/experimental
psychologists,    and    diving    officers    wear    special
insignia.  Those  presently  or  previously  engaged  in
presidential service or assigned to certain staffs, such
as the organization of the Joint Chiefs of Staff or the
staff     of     the     Secretary     of
Defense,
display
identification badges.
9-19