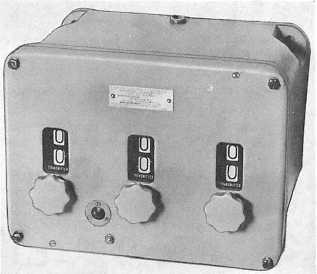 order  by  moving  an  answering  pointer  into  the
same  sector  as  the  requesting  pointer  from  the
bridge.
Engine-Revolution Indicator
Near the engine-order telegraph, you normally
will   find   another   device,   the   engine-revolution
indicator (fig. 18-6).
On the face of this instrument are three small
windows   with   two   rows   of   numbers   in   each
window.   The    lower    row    of    numbers    is    set
individually  by  three  hand  knobs  located  directly
below  the  windows.  For  example,   if   110   shaft
revolutions  per  minute  is  required  for  a  ship  to
proceed  at  15  knots,   the   lee   helmsman   would
indicate the numbers 1, 1, and 0 in the lower row
of  numbers.  These  lower  numbers  give  a  visual
indication of the  shaft  revolutions  ordered  by  the
conning   officer   to   the   engine   room.   Through
electrical   transmission,   corresponding   numbers
appear  on  a  similar  instrument  in   the   engine
room(s).  In  the  engine  room(s),  these  orders  are
receipted   and   acknowledged   when   the   engine-
room instrument is set on the same settings. Once
again  this  indication  is  transmitted  back  to  the
bridge electrically and is shown on the upper row
of  numbers.  Thus,  the  lee  helmsman  is  able  to
report  to  the  conning  officer  the  receipt  of  the
order  for  engine  speed  and  see  that  the  order  is
being carried out.
7.122
Figure 18-6.-Engine revolution indicator.
The number of revolutions per minute required
to   travel   at   the   various   speeds   (in   knots)   is
calculated in advance and is posted on a table near
the lee helm.
On older  ships  the  helm  and  the  lee  helm  are
located  in  different  consoles,  usually  near  each
other.  On  newer  ships,  however,  a  ship-control
console houses all  the  equipment  for  steering  the
ship  and  for  controlling  its  speed  in  one  central
location. Additionally, on some ships you  will find
lighting,   steering,   and   general-alarm   controls
housed in the ship-control console.
COMPASSES
The best known and most widely used naviga-
tional   instrument   is   the   compass.   Without   it,
precise  information  on  headings  and  directions
would  be  almost  impossible  to  obtain.  Compasses
were used even before the days of Columbus, and
they remain indispensable to today's Navy.
A compass is an instrument that indicates  the
fixed  point  or  direction  of  north.  It  allows  you  to
judge  all  other  directions  by  this  fixed  point  to
determine the direction in which you are heading.
The  Navy  uses  two  main  types  of  compasses:
gyroscopic    and    magnetic.    The    gyrocompass
operates  on  the  principle  that  a  rapidly  spinning
object is balanced at its center of gravity, much as
a    spinning    top    stands    on    its    point.    The
gyrocompass   is   designed   to   point   toward   true
north,  although  it  may  have  a  slight  mechanical
error  (for  which  an  allowance  is  made).  On  the
other  hand,  the  magnetic  compass  is  controlled
primarily by the magnetic properties of the earth;
therefore,  it  tends  to  point  toward  the  magnetic
north pole.
GYROCOMPASS
The   gyrocompass   is   unaffected   by   magnetic
influence. When in proper working order, it points
constantly  to  the  true  rather  than  the  magnetic
north pole.
The  gyrocompass  may  have  a  slight  mechani-
cal   error   of   1   or   2   degrees,   but   the   error   is
computed easily. Since the error remains constant
18-6