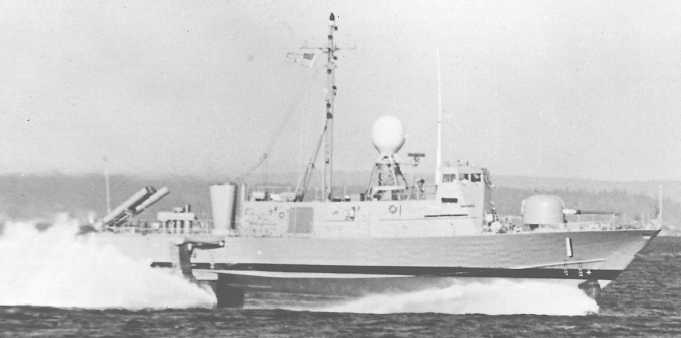 craft  developed  by  the  Navy.  It  displaces  16,600  to
18,700  tons.  The  size  of  the  Trident  submarine  is
dictated by the larger size missile required for ranges
of  4,000  to  6,000  miles  and  the  larger  reactor  plant
required  to  drive  the  ship.  The  submarine  has  24
tubes  for  the  Trident  II  missile  and  4  torpedo  tubes
located in the bow.
A nuclear-powered  attack  submarine,  like  that  of
the Sturgeon class, displaces 3,800 to 4,700 tons and
has  four  torpedo  tubes.  The  new  Los  Angeles-class
fast-attack submarines displace about 7,000 tons and
have  four  torpedo  tubes.  Notice  in  figure  19-9  how
much larger the SSBN is than the SSN. You can also
see the bow of a second Los Angeles-class SSN at the
top right of the figure. Although possessing different
missions, both are super-powered submarines.
Early  submarines  were  named  after  marine  life.
The   first   SSBNs,   however,   were   given   names   of
persons well known in American history, like George
Washington,

Patrick Henry,

and

Lafayette.
New  

fast-attack  submarines   (SSNs)   are   named
after  American  cities—like  the  

Los  Angeles,  Baton
Rouge,   

and   

Memphis.   

The   Tridents   (SSBNs)   are
being named after American states-like the

Ohio

and
the

Michigan.
Other Combatants
Other  ships  classified  as  combatants  are  patrol
combatant ships, amphibious warfare ships, and mine
warfare ships.
PATROL  COMBATANTS.  

—Patrol  combatants
fall  into  two  categories:  patrol  combatant  (PG)  and
guided-missile patrol combatant (hydrofoil) (PHM).
The  patrol  combatant  was  developed  because  of
increased    emphasis    on    counterinsurgency    and
unconventional    warfare    operations.    The    PG    is
designed    for    good    sea-keeping    qualities,    long
endurance,    a    high    payload,    and    high    speed
capabilities. Although the PG is not a torpedo boat, it
can operate in shallow coastal waters and is capable
of   combating   coastal   shipping   as   well   as   enemy
torpedo boats.
The  main  propulsion  plant  of  the  gunboat  uses  a
combination  of  diesel  and  gas  (turbine)  (CODAG).
This  combination  achieves  the  greatest  possible  fuel
economy  and  maximum  endurance  time  on  station.
Two  diesel  engines  drive  the  twin  propellers  during
maneuvering   and   cruising   speeds,   the   gunboat's
normal  operating  condition.  When  high  speeds  are
needed,   the   diesels   are   declutched   and   the   gas
turbine is clutched to the propeller shafts for speeds
over 40 knots.
The PG is constructed of aluminum and fiberglass,
is 165 feet long, has a beam of 24 feet, and displaces
225 to  245  tons.  Its  armament  consists  of  one  3"/50-
caliber gun, one 40-mm gun, and four 50-caliber twin
machine guns.
The  newer  patrol  combatant  ships  are  guided-
missile   patrol   combatant   (hydrofoil)   ships   (PHM).
Figure 19-10 shows the first of the class,
134.190
Figure 19-10.-Uss

Pegasus

(PHM-1), a patrol hydrofoil missile ship.
19-11