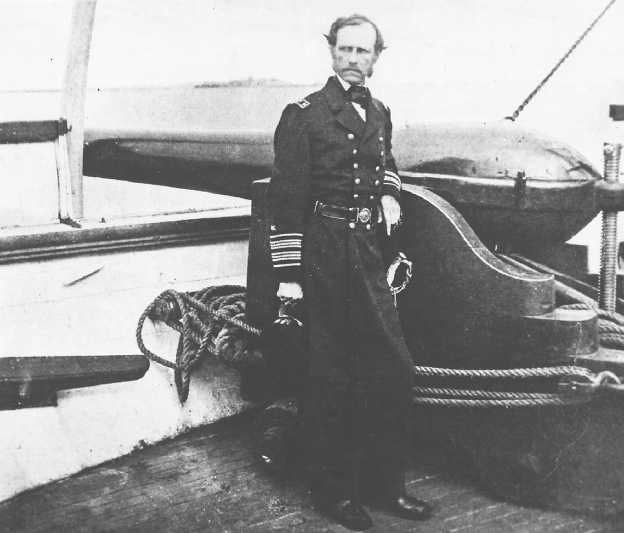 Civil War (1861 to 1865) than during any other period
since our Navy began in 1775.
SEA POWER IN MODERN TIMES
SIGNIFICANT DATES
28 Dec. 1867
United States claims Midway
Islands, first territory annexed
outside continental limits.
31 Jul. 1874
USS

Intrepid,

first warship
equipped with torpedoes, is
commissioned.
9 Nov. 1880
USS

Ticonderoga,

first steam-
powered ship to circle globe,
ends cruise begun on 7 Dec. 1878.
5 Aug. 1882
Congress authorizes first steel
warship.
1 Jul. 1897
First use of International Rules
of the Road.
16 Dec. 1907
The Great White Fleet, the
first fleet of warships to circle
globe, leaves Hampton Roads, Virginia.
15 Apr. 1912
Navy dispatches USS

Chester
from President Roads, Massachusetts,
to aid survivors of SS

Titanic

sunk by
collision with iceberg in North Atlantic.
The span of years between the Civil War and World
War  I  brought  many  changes  to  the  U.S.  Navy.  The
ironclads     from     the     Civil     War     inspired     vast
improvements    to    shipbuilding    technology.    These
technological  advances  led  to  the  develop-ment  of  an
all-steel Navy. Rear Admiral John A. Dahlgren (fig. 1-
1), the father of modern
134.14
Figure 1-1.—Rear Admiral Dahlgren, standing next to one of the guns he designed, was the
leading pioneer in modern naval ordnance and gunnery. The Dahlgren Gun was the forerunner of
today's modern naval gun.
1-5