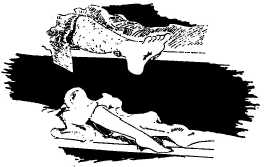 Military    Requirements    for    Chief    Petty    Officer,
NAVEDTRA  12047,  Naval  Education  and  Training
Program  Management  Support  Activity,  Pensacola,
Fla., 1992.
Navy   Fact   File,   

8th   ed.,   Office   of   Information,
Washington, D.C., 1988.
U.S.  Department  of  Defense,  Soviet  Military  Power:
An Assessment of the Threat

1988

,

Washington, D.C.,
1988.
SUGGESTED READING
Mack,  W.P.,  and  T.D.  Paulsen,  

The  Naval  Officer's
Guide,

9th ed., Naval Institute Press, Annapolis, Md.,
1983.
Miller,  N.,  

The  U.S.  Navy:  An  Illustrated

 

History,
Bonanza Books, New York, N.Y., 1977.
Polmar, N.,

Guide to the Soviet Navy, Fourth Edition,
Naval    Institute    Press,    Annapolis,    Md.,    1986.
SHOW A LEG
MANY OF OUR NAVY'S COLORFUL EXPRESSIONS ORIGINATED AS PRACTICAL MEANS OF
COMMUNICATING VITAL INFORMATION. ONE SUCH EXPRESSION IS "SHOW A LEG."
IN THE BRITISH NAVY OF KING GEORGE III AND EARLIER, MANY SAILORS' WIVES ACCOMPANIED
THEM ON LONG VOYAGES. THIS PRACTICE CAUSED A MULTITUDE OF PROBLEMS BUT SOME
INGENIOUS BOSUN SOLVED ONE THAT TENDED TO MAKE REVEILLE A HAZARDOUS EVENT:
THAT OF DISTINGUISHING WHICH BUNKS HELD MALES AND WHICH HELD FEMALES.
TO AVOID DRAGGING THE WRONG "MATES" OUT OF THE RACK, THE BOSUN ASKED ALL TO "SHOW
A LEG." IF THE LEG SHOWN WAS ADORNED WITH SILK, THE OWNER WAS ALLOWED TO CONTINUE
SLEEPING. IF THE LEG WAS HAIRY AND TATTOOED, THE OWNER WAS FORCED TO "TURN TO."
IN TODAY'S NAVY, SHOWING A LEG IS A SIGNAL TO THE REVEILLE PETTY OFFICER THAT YOU
HAVE HEARD HIS CALL AND ARE AWAKE.
1-22