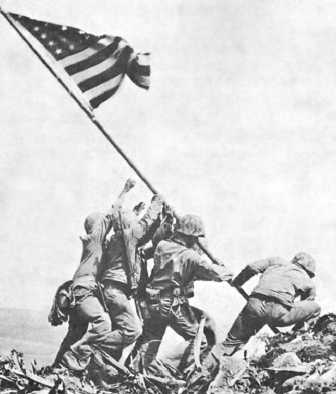 Mount   Suribachi   (fig.   2-16).   The   date   was   23
February 1945. These six men were Sergeant Michael
Strank of Pennsylvania; Corporal Harlan H. Block of
Texas;  Privates  First  Class  Franklin  R.  Sousley  of
Kentucky,  Rene  A.  Gagnon  of  New  Hampshire,  and
Ira  H.  Hayes  of   Arizona;   and   Pharmacist's   Mate
Second Class John H. Bradley of Wisconsin. Admiral
Chester    W.    Nimitz    singled    out    these    men    as
representatives  of  the  "uncommon  valor"  shown  by
the Marines on Iwo Jima at a cost of 5,017 dead and
17,145 wounded.
The  sacrifices  made  by  these  men  live  on  in  the
minds  and  hearts  of  Americans.  A  monument  and
flagstaff  were  dedicated  to  those  heroes  on  top  of
Mount  Suribachi.  The  United  States  Marine  Corps
War Memorial (a bronze statue with 32-foot figures),
immortalizing the deed, stands just outside Arlington
National Cemetery in Arlington, Virginia.
THE KOREAN CONFLICT
The  Korean  conflict  had  its  acts  of  heroism  also.
We have innumerable accounts of men of
134.18
Figure 2-16.-Raising The colors under fire after
the charge up Mount Suribachi.
the  Navy  and  Marine  Corps  who  gave  their  lives  in
that conflict.
Representative  of  these  men  was  Private  First
Class  Walter  C.  Monegan,  Jr.  When  his  battalion
encountered six T-34 medium tanks, he destroyed one
and  halted  the  advance  of  the  other  five  tanks  with
his rocket launcher. A few days later, North Korean
tanks    again    menaced    his    battalion.    Monegan
snatched  up  his  rocket  launcher  and  started  toward
the enemy. He spotted three T-34s. He sent a round
slamming into the nearest tank, piercing its armored
hull  and  spraying  the  crew  with  fragments  of  steel.
Turning quickly, he fired on the second, causing it to
erupt into flames. Caught in the light of this roaring
fire,  he  raised  his  weapon  and  advanced  upon  the
third vehicle. Just as he was about to pull the trigger,
he was killed by fire from an enemy machine gun.
THE VIETNAM CONFLICT
Most  heroes  are  very  much  like  the  boy  next
door—nice  guys,  but  not  particularly  unusual  until,
in a time of crisis, they do something extraordinary.
This section describes the actions of five men who
distinguished  themselves  in  combat  in  Vietnam  by
risking their lives above and beyond the call of duty.
All  five  were  awarded  the  nation's  highest  award—
the  Medal  of  Honor;  however,  only  one,  James  E.
Williams, lived to receive the award personally.
MARVIN G. SHIELDS
Marvin G. Shields, a Construction Mechanic Third
Class, was a Seabee attached to Mobile Construction
Battalion 11 at Dong Xoai. Near midnight on 9 June
1965,  the  Vietcong  (VC)  lobbed  a  mortar  shell  (or
perhaps   it   was   a   rocket)   over    the    compound.
Everyone immediately grabbed weapons and manned
the defenses.
Although the attack was a heavy one and Shields
was  wounded  early  in  the  action,  these  obstacles
didn't  seem  to  slow  down  his  fighting  ability.  When
ammunition   ran   low,   it   was   Shields   who   made
several  resupply  trips  to  the  ammo  trailer,  crossing
150 feet of ground exposed to mortar fire. When  the
VC  came  pouring  in,  the  defenders  fell  back  to  new
positions. Shields  and  another  man  took  the  time  to
move  an  officer  with  broken  legs  through  a  hail  of
bullets to the relatively safe headquarters building.
2-22