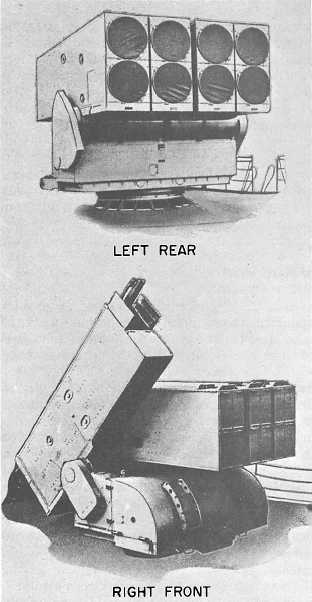 a boxlike device containing eight cells, as shown in
figure 20-9, each containing a missile.
SUBROC
The SUBROC, an antisubmarine  rocket  with
a  nuclear  warhead,  is  launched  from  a  submarine
torpedo    tube    by    conventional    methods.    After
clearing the submarine, a rocket motor ignites and
propels  the  weapon  upward  and  out  of  the  water.
An   inertial   guidance   system   then   directs   the
SUBROC  toward  its  target.  At  a  predetermined
range,  the  motor  and  depth  bomb  separate,  the
latter  continuing   toward   the   target   area.   Upon
reentry  into the water,  the bomb sinks to a preset
15.106
Figure 20-9.—The ASROC cellular launcher.
depth, where the warhead explodes. The  target  may
be   a   surface   ship   as   well   as   a   submarine.   The
SUBROC  system  can  fire  missiles  in  rapid  succes-
sion, an important defense against enemy tactics.
SUBROC systems are installed in the Permit,
Sturgeon,    and    Los    Angeles    classes    of    attack
submarines (SSNs).
TORPEDOES
A torpedo can be  launched  from  submarines,
surface ships, or aircraft. The two primary torpedoes
in the Navy inventory are the Mk 46 and the Mk 48.
A new Mk 48 advanced capability  (ADCAP)  and  Mk
50 torpedo are being phased into the fleet.
Mk 46
The  Mk  46  torpedo  is  a  lightweight  ASW
torpedo
designed
to
attack
high-performance
submarines.    The    Mk    46    torpedo    is    presently
identified   as   the   NATO   standard   torpedo.   Since
introduction of the Mk  46  in  1967,  navies  of  several
other countries have acquired it. The Mk 46 torpedo
is  designed  to  be  launched  from  surface  combatant
torpedo   tubes,   ASROC   missiles,   and   fixed-   and
rotary-wing aircraft.
Mk 48 and Mk 48 Advanced
Capability (ADCAP)
The  Mk  48  torpedo  is  carried  by  all  Navy
attack and ballistic missile submarines. The improved
version—the  Mk  48  ADCAP—is  carried  by  the  SSN
688  and  SSN  637  classes  of  attack  submarines.  The
Mk 48 ADCAP will also be used by the Seawolf-class
attack  submarines  and  Ohio-class   ballistic   missile
submarines.
These torpedoes  enable  U.S.  submarines  to
sink  hostile  surface  ships  or  submarines  in  the
presence  or  absence  of  torpedo  countermeasures.
The design of both of these weapons enables  them
to   combat   fast,   deep-diving   nuclear   submarines
and
high-performance
surface
ships.
Both
torpedoes    can    operate    with    or    without    wire
guidance  and  use  active  and/or  passive  homing.
When    launched    they    execute    preprogrammed
target-search,  acquisition,  and  attack  procedures.
Both    will    conduct    multiple    reattacks    in    the
unlikely event they miss the target.
The  Mk  48  has  been  operational  in  the  U.S.
Navy   since   1972.   The   Mk   48   ADCAP   became
operational   in   1988   and   was   approved   for   full
production  in  1989.  The  ADCAP  has  significantly
increased    capabilities    over    the    Mk    48.    These
capabilities  allow  its  employment  against  the  most
advanced Soviet submarines.
20-12