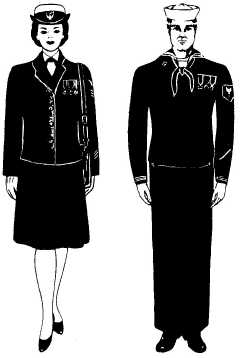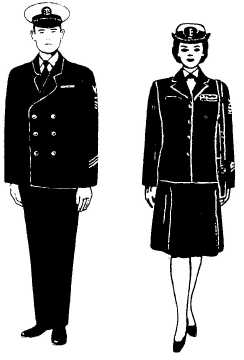 Figure 9-11.—Typical uniforms for enlisted
personnel below CPO.
uniform for male personnel E-1 through E-6 (fig.
9-11).
Uniforms    for    chief    petty    officers,    like
officers,  are  of  the  distinctive   and   traditional
double--  breasted  coat  and  tie  style  shown  in
figure   9-12.   The   differences   between   officers'
and    chief    petty    officers'    uniforms    are    in
identifying insignia.
Chief  petty  officers  wear  a  visor  cap  similar  to
the   junior   officer   type.   The   chin   strap   is   black
leather,  and  the  insignia  is  a  gold  fouled  anchor  on
which are superimposed the  silver  letters

USN.  

The
number of stars atop the anchor reflects the rate of a
senior or master chief petty officer: one star for senior
and two for master (with a third star for the master
chief petty officer of the Navy).
Petty officers wear, midway between  shoulder
and  elbow  of  the  left  sleeve,  a  rating  badge.  The
badge  consists  of  a  perched  eagle,  the  specialty
mark of their  rating  (see  figs.  9-13  and  9-14),  and
chevrons,  indicating  the  rate.  Senior  and  master
chief  petty  officers  wear  stars  above  the  eagle  of
the rating badge to indicate their rate, as shown in
figure   9-10.   In   addition   to   the   rating   badge,
Figure 9-12.—Uniforms for CPOs.
CPOs  also  wear  miniature  fouled  anchors  on  each
collar  tip  of  the  khaki,  working  blue,  and  tropical
white shirt.
The  color  of  a  rating  badge  varies  according  to
the uniform  on  which  it  is  worn.  Enlisted  personnel
generally wear scarlet chevrons on blue uniforms and
blue on all others.
The   service   stripes   (hashmarks)   on   the   left
sleeve below the rating badge identify the number of
years  an  enlisted  person  has  served  in  the  armed
forces.    CPOs    wear    7-inch-long    diagonal    service
stripes;   E-6   and   below   wear   5-inch-long   diagonal
stripes.  Each  stripe  represents  4  years  of  service  in
the  Navy,  Marine  Corps,  Coast  Guard,  Army,  Air
Force, or Naval Reserve. All enlisted personnel below
CPO wear red hashmarks on blue uniforms and blue
on others. Personnel who have completed 12 years of
active service (broken or unbroken) in the Navy and
Naval Reserve with good conduct wear gold chevrons
and hashmarks with the blue and white uniforms.
Personnel  below  paygrade  E-4  wear   3-inch-
long   rectangular   group-rate   marks   on   the   left
sleeve  in  place  of  the  PO  rating  badge  (fig.  9-13).
The  color  of  the  stripes,  alone  or  in  combination
with  a  specialty  or  striker's  mark,  indicates  the
9-14