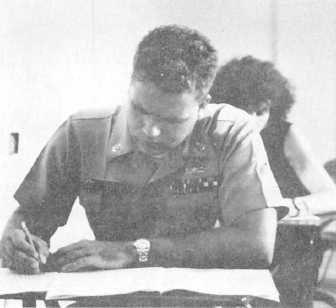 LESSON SUMMARY
A   lesson   summary   is   used   to   recapture
students'  attention  and  build  to  a  motivational
climax.  You  may  want  to  give  short  or  interim
summaries  at  various  places  in  a  lesson.  Give
final summaries after you have covered all of the
main points of the lesson. Quickly reviewing the
main  points  can  refocus  students  and  help  them
retain information.
The  purpose  of  the  summary  is  to  instill  in
students  a  desire  to  retain  and  use  what  they
have  learned.  Although  you  motivate  students
throughout the lesson, the summary is  your  last
chance     to     emphasize     how     important     the
information   is   to   them   as   individuals.   The
ultimate goal  of  instruction  is  to  cause  students  to  remain  motivated  beyond  the  instructor's  influence
and apply what they have learned on the job.
SUMMARY
You must constantly motivate your students to learn. Grasp every opportunity to motivate students.
As  an  instructor,  you  must  find  which  methods  and  devices  work  best  with  your  students  in  certain
situations.  After  instruction  begins,  assess  each  student's  achievement  level,  learning  styles,  and
motivational patterns to determine the readiness of each student to learn.
Remember  Maslow's  theory.  Be  sensitive  to  your  students'  needs  and  provide  them  with  a  proper
learning   environment.   Those   students   with   adequate   motivation   should   then   be   ready   to   learn.
Following Maslow's theory does not mean you pamper students into learning. Rather, it means you look
upon each student as a human being with certain inherent rights and feelings.
As an instructor, be professional, intellectually honest, and aware of your influence on students. Set
a good example at all times by maintaining a neat, clean, and proper personal appearance. Be courteous;
use  proper  titles  when  addressing  military  or  civilian  students.  Set  rules  early  in  the  course  and
maintain  them.  Welcome  and  profit  from  the  evaluations  of  the  students  or  other  instructors.  Avoid
arguments, control distractions, and be fair in all your dealings with students--above all be consistent.
20