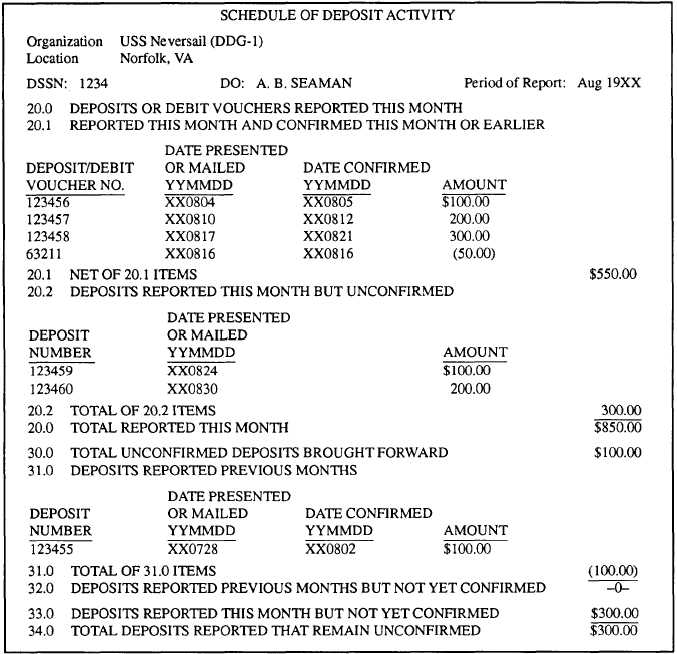 Distribution
The DO submits the original and one copy of the SF
1219 with the financial returns. The other copy is retained
in the disbursing office with the other retained returns.
Erroneous Statements of Accountability
DOs will not submit corrected or amended SFs 1219
under any circumstances. But, what if you find an error
in  the  SF  1219  after  your  DO  has  forwarded  this
document  with  the  financial  returns?  Your  DO  will  simply
report the error on the SF 1219 for the following reporting
period. If adjustment action is necessary, the adjustment
instances when a final SF 1219 has been submitted because
of deactivation of a disbursing office and subsequent
adjustments  are  found  to  be  necessary,  a  supplemental
SF 1219 will be submitted showing the adjustments.
The  adjustment  entries  will  be  explained  in  detail  by
supporting  documentation  attached  to  the  SF  1219.
SCHEDULE  OF  DEPOSIT  ACTIVITY
A Schedule of Deposit Activity will be prepared by
all   Navy   DOs   who   prepare   a   Statement   of
Accountability (SF 1219). This schedule is not a formal
form; it is a locally prepared document. The format for
this  document  should  be  similar  to  the  that  shown  in
will be made on the succeeding month's SF 1219. In
figure 7-9.
Figure 7-9.-Sample Schedule of Deposit Activity.
7-15