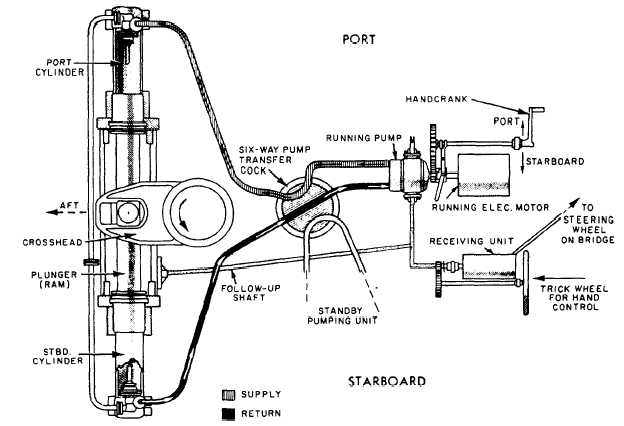 The  reciprocal  of  any  bearing  is  its  opposite,
meaning that the point or degree is on the opposite side
of the compass card from the bearing. For example, the
reciprocal of 180° is 000°, and vice versa. When you
obtain a bearing on some object, the bearing from the
object to you is the reciprocal of the bearing from you
to  it.
To find the reciprocal of any bearing expressed in
degrees, simply add 180° to the bearing. If the bearing
is 050°, for instance, its reciprocal is 050° plus 180°, or
230°. If your bearing is greater than 180°, subtract 180°
to  find  the  reciprocal.
SHIP'S STEERING AND SPEED
CONTROL EQUIPMENT
LEARNING OBJECTIVE: Identify and explain
the operation and usage of the ship's steering
and  control  equipment.
The ship's steering and speed control equipment
includes many parts and types of equipment. The parts
and types of equipment may change from one ship class
to another, so in the following pages we will discuss the
ones  most  commonly  used  in  the  Navy  today.
STEERING ENGINES
When ships began using steam as a means of
propulsion,  many  problems  were  created.  Foremost  was
inadequate hand-powered steering gear. The rapid
increase in the size and speed of steamships resulted in
a  correspondingly  greater  turning  effort  required  at
rudder  stocks.  Consequently,  a  natural  sequence  of
events  led  to  the  introduction  of  steam-powered
steering  gear.
Today, there are two types of steering engines. They
are   electromechanical   and   electrohydraulic.
Electromechanical steering gear is found on some small
ships. Most vessels of recent design are equipped with
the electrohydraulic mechanism. A brief discussion of
the  types  of  steering  gear  follows.
Electromechanical  steering  gear  applies  power  to
the rudder by means of electromotive machinery.
Because electromechanical gear requires large motors
and considerable maintenance, it has been replaced, to
a  great  extent,  by  electrohydraulic  gear.
Naval  vessels  are  equipped  with  electrohydraulic
steering gear. Most destroyers use the single-ram
steering gear, shown in figure 2-6. Aircraft carriers and
some other large ships use a double-ram system.
Figure 2-6— Single-ram electrohydraulic steering gear system.
2-5