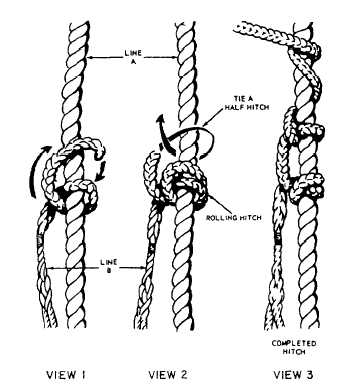 Figure  3-18.–Rolling  hitch.
When tying the rolling hitch, take a turn around the
line with the stopper as in view 1 of figure 3-18. Pull
taut, then take another turn. This turn must cross over
the first (view 1) and pass between the first turn and the
stopper  (view  2).  The  rolling  hitch  itself  is  now
complete, but it must be stopped off in one of several
ways.
You may take two or more turns with the lay of the
line and then marry the stopper to the line by hand or
seize the stopper to the line with marline. Another
method is to tie a half hitch directly above the rolling
hitch (view 3), then take a couple of turns against the
lay, and marry or seize the stopper to the line.
A  clove  hitch  is  the  best  all-round  knot  for
bending to a ring, spar, or anything else that is round
or nearly round. This is such a fine knot that the
old-time seamen used to call a man who was worth
his salt "all in a clove hitch." Figure 3-19 shows you
how to throw one.
A clove hitch will not jam and seldom pulls out.
A slack clove hitch, as on a boat painter, however,
might work itself out. For that reason, it is a good idea
to put a half hitch in the end as in figure 3-20. A half
hitch, by the way, never becomes a whole hitch. Put
another one on, and all you have is two half hitches,
as shown.
The slight disadvantage a clove hitch might have
is that it can slide along a slippery spar when the
strain is along the spar. The knot that cannot slide this
way  is  the  stopper  hitch  (fig.  3-21).  This  knot  is
especially useful for bending a boat painter to a larger
line whose end is unavailable. It jams tight on a hard
strain,  however.
SPLICES
LEARNING   OBJECTIVES:   Define   line
splices.  Identify  the  types  of  splices.
Splices are used to make permanent eyes and
permanent repairs in lines. There are three general types
of splices: eye, short, and long. When splicing fiber line,
you should take three or four tucks with each strand.
Figure 3-19.–Throwing a clove hitch.
3-14