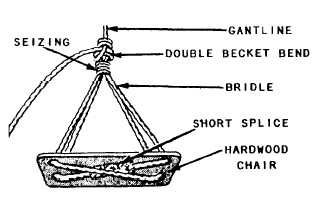 Easing-out lines, when appropriate, must be
rigged immediately upon rig hookup to prepare for a
possible  emergency  breakaway.
Personnel in the immediate area of the transfer
station  must  wear  construction-type  safety  helmets,
equipped  with  quick-acting  breakaway  devices.  Chin
straps must be fastened and worn under the chin. Safety
helmets will be color-coded as follows:
WHITE— Officers, CPOs, and supervisors
WHITE (with green cross)— Safety Officer
YELLOW—  Rig  captain
GREEN— Signalmen and phone talkers
BROWN—  Winch  operators
PURPLE—  Repair  personnel
RED— Line-throwing gunners (or bolo heavers)
WHITE (with red cross)— Corpsmen
BLUE— Deck riggers and line handlers
ORANGE— Checkers and supply personnel
GREY—  All  others
Except  forklift  truck  operators,  topside  personnel
who are engaged in handling stores or lines or who are
in the transfer area must wear properly secured, orange-
colored, inherently buoyant, vest-type life jackets with
collars. Forklift truck operators will wear inflatable life
jackets fully ready for use: life jacket in front, opened,
with  the  yoke  over  the  head  (except  actual  inflation).
Personnel rigging aloft or working outboard of
bulwarks or safety chains must wear a properly secured,
orange-colored,  inherently  buoyant,  vest-type  life  jacket
with a buttonhole in the back cover to permit concurrent
use of the safety harness and safety and working line.
(See  

Naval Ships' Technical Manual,

chapter 077, for
details for use with a safety harness.)
Personnel at a transfer station must wear a one-
cell flashlight (or green chemical light), whistle, and sea
marker (fluorescent) on the outside of their life jacket
during  night  replenishment.  Flashlights  need  not  be
lighted  except  at  the  discretion  of  the  commanding
officer. Chemical lights must be lighted, and are not to
be discarded over the side during hours of darkness,
during  the  replenishment,  or  until  completely
extinguished.
Personnel involved in cargo-handling operations
on both the delivering and receiving ships must wear
safety  shoes.
Additional  safety  precautions  to  be  observed
during fueling can be found in NWP 14.
THE  SEAMAN  ALOFT
LEARNING   OBJECTIVE:   Describe   the
rigging  used  for  going  aloft.
As a Seaman in the deck division, you will be
involved in painting or doing repairs while working
either aloft or over the side. To do these tasks safely, you
must  be  able  to  correctly  rig  and  use  both  the
boatswain's chair and the stage. You must also know the
safety precautions involved in working aloft or over the
side.
BOATSWAIN'S CHAIR
The boatswain's chair is a hardwood seat attached
to a double bridle of stout line, as shown in figure 4-29.
It is always bent to the gantline by a double becket. A
length of slack end is left hanging, as shown, for use in
securing to masts or stays aloft.
For a straight drop, as when painting down a mast,
rig the chair for self-lowering. When you are coming
down a mast, you will often find that the ladder takes
you only to the crosstree. You must be hoisted from
there to the truck by personnel on deck.  When there is
no way of getting to the truck by ladder, a dummy
gantline usually is left reeved from the crosstree up
through the sheave at the truck and back to the crosstree.
The dummy gantline makes it unnecessary for anyone
to climb the topmast to reeve a chair gantline through.
You must never let the end get away from you and reeve
out.
Figure 4-29.— The boatswain's chair.
4-37