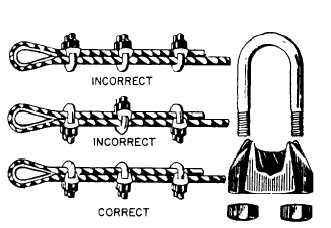 Figure 3-32.–Correct and incorrect use of wire-rope clips.
WIRE-ROPE CLIPS
A temporary eye splice may be put in wire by using
wire-rope clips. The correct and incorrect ways of using
these clips are shown in figure 3-32. The U-bolt always
goes over the bitter end and the roddle goes on the
standing part. Space the clips at a distance apart equal
to six times the diameter of the wire. After the rope is
under strain, tighten the clips again as a safety measure.
The  clips  must  be  rechecked  periodically  thereafter  and
retightened  as  needed.  Pay  particular  attention  to  the
wire at the clip farthest from the eye because vibration
and whipping are dampened here and fatigue breaks are
likely to occur.
To obtain maximum strength in the temporary eye
splice, you must use the correct size and number of wire
clips. The size is stamped on the roddle between the two
holes. The minimum number of clips to use for various
sizes of wire rope is shown in table 3-4.
The improved type of wire rope clip is shown in
figure 3-33. Both halves are identical and provide a
bearing surface for both parts of the rope. Thus, it
cannot be put on wrong and it does not distort the wire.
It also allows a full swing with a wrench.
Personnel handling wire rope must always wear
gloves. Even new wire occasionally has a fishhook that,
if allowed to slide through the unprotected hand, can
inflict a painful hand injury.
Table 3-4.–Number of Clips Regularly Used as a Minimum
All  6x7  Ropes;
Proper  Torque  to
All Ropes With
be Applied to
Rope Diameter
Independent  Wire
All 6x19 and
Nuts of Clips
(inches)
Rope  Centers
6x37  Rope
[ft/lb(dry)]
3/8
4
3
45
1/2
4
3
65
5/8
4
3
95
3/4
5
4
130
7/8
5
4
225
1
6
5
225
1 1/8
6
5
225
1 1/4
7
6
360
1 3/8
7
6
360
1 1/2
8
7
360
1 3/4
8
7
590
3-24