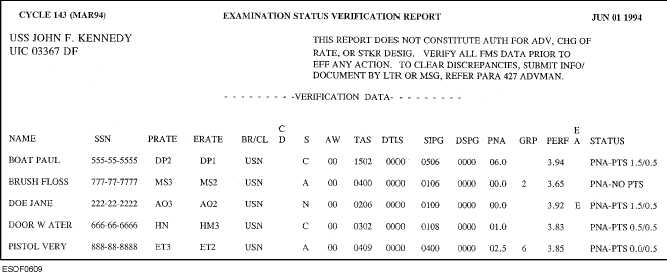 Learning  Objectives

:

 

Identify  the  postexamination
procedures to be followed; identify the procedures to be
followed when requesting substitute examinations.
After  the  examination  cycle,  certain  procedures
must  be  followed.  These  procedures  ensure  that
examination  results  are  received  for  each  candidate
and  that  candidates  selected  for  advancement  are
advanced  correctly.  They  also  ensure  that  service
record  entries  and  disbursing  forms  are  completed
properly.
RESULTS OF NAVYWIDE ADVANCEMENT
EXAMINATIONS
After  the  examination,  the  candidates  and  the
commands  anxiously  await  the  examination  results.
NETPDTC  publishes  the  E-4  through  E-6  exam
results.  Commands receive the results approximately
3 months after the candidates take their examinations.
Chief  petty  officer  candidates  normally  wait
approximately  2  months  for  SELECTION  BOARD
ELIGIBILITY  results.    They  then  wait  another  4
months,  while  the  selection  board  completes  the
selection  process,  to  find  out  whether  they  are
SELECTEES.  Senior and master chief petty officer
candidates  are  recommended  and  nominated  in
November  of  each  year.    They  normally  find  out
whether they are selectees about 6 months later.
NETPDTC  issues  examination  results  and
advancement authority to individual commands by the
Examination  Status  Verification  Report  (ESVR),
Rating  Change  Authorization  (RCA),  data  mailer,
message, or letter.  The examination results forwarded
to  each  command  consist  of  the  ESVR,  RCA,  and
Examination Profile Information Form.  (See figs. 6-9
through 6-11.)  Results for the candidates who took a
late substitute examination are normally issued by data
mailers (fig. 6-12) or separate correspondence.  Once
the RCA and the ESVR are verified, they should be
posted on the command's bulletin board.
Rating Change Authorization
The RCA (fig. 6-10) is the actual authorization for
advancement  of  candidates.    The  command  must
verify this report upon receipt; no candidate may be
advanced until all information has been verified.
The RCA lists all personnel being advanced on the
16th of a particular month.  For instance, all personnel
being advanced on 16 February will be on the same
RCA; all personnel being advanced on 16 October will
be on a separate RCA; and so forth.  If the command
has no one being advanced during any given month, no
RCA will be issued.
Personnel  who  took  a  late  examination  and  are
a u t h o r i z e d    a d v a n c e m e n t    w i l l    r e c e i v e    t h e ir
authorization by a data mailer.
Examination Status Verification Report
(ESVR)
The ESVR lists all personnel not listed on the RCA
whose status is one of the following:
·
Selectee
·
Passed, but not advanced (PNA)
·
Failed
·
Examination invalidated
6-17
Figure 6-9.—  Sample copy of an Examination Status Verification Report (ESVR).