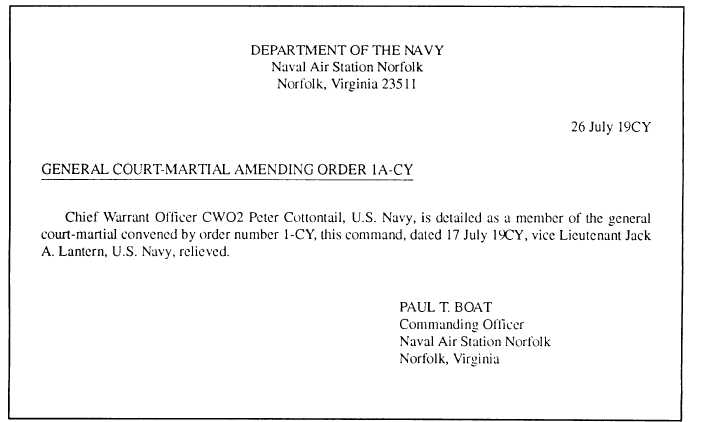 amending order used to temporarily remove officer
members  from  a  previously  established  court  without
replacements for a specific case only. Figure 6-9 shows
a GCM amending order used to permanently remove an
officer member from a previously established court and
replace that member with a new officer member.
The previous samples show some of the various
types of amending orders and the intended purposes of
each different type. These samples can be modified for
usc in amending either an SPCM or a GCM convening
order simply by changing the heading and the body to
read the appropriate type of order.
Keep in mind,
however, that the basic format of these samples will not
change regardless of the type of order you are amending.
Distribution
The original convening order and any amendments are
inserted in the original record of trial. Provide copies of
the convening order and any amending orders to the TC,
DC, military judge, court reporter, and the file.
PRETRIAL  AGREEMENTS
What is a pretrial agreement? As the name itself
indicates,  a  pretrial  agreement  is  an  agreement  made
before the trial between the accused and the CA. The
agreement stipulates the maximum sentence that the CA
will approve in return for a guilty plea of the accused.
Actually, it is not quite that simple, as the following
discussion  will  bear  out.
Purpose
Pretrial agreements arc advantageous to both the
government  and  the  accused.  By  entering  into  an
agreement with the CA, the accused knows in advance
the  maximum  sentence  that  the  CA  will  approve.  On
the  other  hand,  through  advanced  planning,  the
government  can  effect  savings  in  money  and  manpower
while  also  effecting  the  expeditious  administration  of
justice. Therefore, from the government's viewpoint,
savings  is  the  primary  purpose  of  entering  into  pretrial
agreements with accused persons. From the accused
person's point of view, he or she has the advantage of
knowing beforehand what his or her maximum sentence
will be.
This is true provided the accused is in fact guilty and
desires to plead guilty.
A pretrial agreement may include (1) a promise by
the accused to plead guilty to or to enter a confessional
Figure  6-9.-General  court-martial  amending  order  permanently  removing  an  officer  member  from  a  previously  established  court
and replacing that member with a new officer member.
6-12