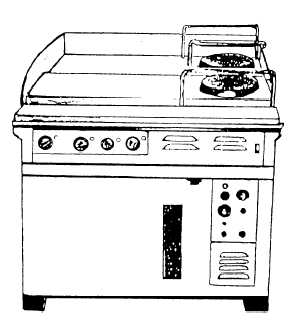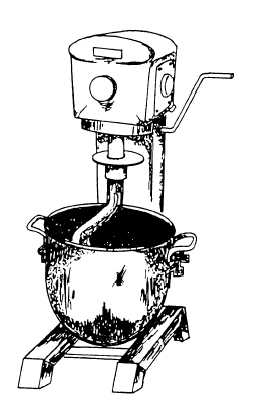 two-compartment oven section makes up the body of the
range. Dial temperature control knobs are mounted on
the   body   directly   adjacent   to   each   section.   The
temperature control knobs for the ovens are located
directly to the right of each oven compartment.
Type C
Type C (fig. 4-6) is found on small ships and private
messes  where  small  galleys  with  limited  space  are
found. This type of range consists of a griddle on the
left side and hot plates on the right side with a single
oven located in the body of the range. This type of range
is also available with a single griddle top and single oven
compartment.
Dial  temperature  control  knobs  are
mounted on the body directly adjacent to each section.
Control knobs for the oven compartment are located to
the  right  of  the  oven  compartment.
Operation of Surface Units
When operating the surface unit, use the control
knob or thermostat setting at maximum heat only to heat
food to cooking temperature or to bring water to a boil,
then reduce the control knob setting to the heat required
by  the  food  being  cooked.  Using  more  heat  than
necessary is not only a waste of power but produces
inferior food. Do not leave the surface unit turned on
when not in use. When steaming food, keep cooking
utensils covered. The food will stick and burn if left
uncovered and power will be wasted.
Figure  4-6.—Type  C  electric  range.
Care and Cleaning
Keep  the  range  surface  units  clean  and  avoid
spilling  grease  under  the  edges  of  the  hot  plates.
Remove and clean drip pans after each use.
To  clean  the  surface  units  follow  the  cleaning
procedures used for griddles and the manufacturer's
technical manual for your range.
To clean the oven compartment use the procedures
recommended by the manufacturer's technical manual
or the cleaning procedures posted near the range.
ELECTRIC FOOD MIXER
Electric food mixers are used for an infinite number
of jobs including beating batters for cakes, mixing bread
dough,  beating  eggs,  and  mashing  and  whipping
potatoes.
Sizes and Attachments
Food-mixing machines (fig. 4-7) are furnished in
20-, 60-,  80-,  110-,  and  140-quart  sizes  with  the
necessary attachments, paddles, and beaters (fig. 4-8).
The wire whip is used for eggs, cream, and lightweight
mixing;  the  flat  beater  for  cake  batters  and
Figure  4-7.—Electric  mixer.
4-10