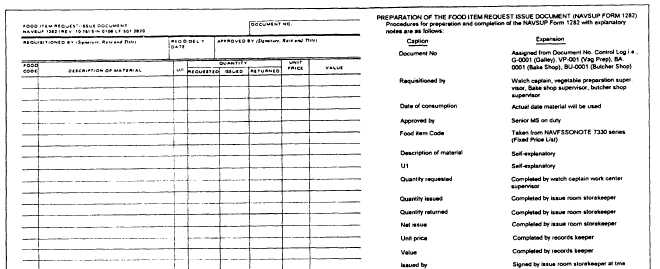 Figure  2-12.—Preparation  explanation  notes  and  the  Food-Item  Request/Issue  Document,  NAVSUP  Form  1282.
becomes   an   extension   of   the   bulk   storeroom   for
accountability   purposes.   Thus,   the   same   issue
documents may be used for breakouts from the bulk
storeroom to the galley and for reporting issues to the
GM drawn from the issue room. When you are using
this procedure, only items for immediate use are to be
requested  from  the  bulk  storeroom  or  drawn  from  the
issue  room.
Care  must  be  taken  to  make  sure  no
excesses are drawn and stored in the galley causing the
issues  to  the  GM  to  be  overstated.  Any  food  items
remaining  in  the  issue  room  under  the  combined
accountability procedure must be counted and reported
with the bulk storeroom items when inventory is taken.
RETURNS OR TURN-INS.—

Unprepared food
items remaining in the galley after completion of meal
periods in which the items were intended to be used must
be  returned  to  the  storeroom  on  a  daily  basis.  The
NAVSUP Form 1282 containing daily issues must be
modified to document items and quantities returned and
thereby show the new issues to the GM. Procedures for
turn-ins are the same as explained earlier under the Issue
Storeroom  to  Galley  Procedures  heading.
D O C U M E N T    D I S T R I B U T I O N    A ND
POSTING.—

The  bulk  storeroom  storekeeper  retains
one  copy  of  the  issue  document  for  posting  to  the
NAVSUP Form 209 or the NAVSUP Form 335 and then
delivers the original and the remaining copy to the GM
records  keeper.
TRANSFERS
Occasionally,  the  need  to  transfer  food  items
between GMs is necessary. You may be told by the
leading MS or FSO to estimate the quantities of the
requested food items that may be spared for transfer to
another GM. In reviewing your stocks of the requested
items,  you  should  make  a  complete  check  against  the
planned menu and consider the length of time before
replenishment  of  the  requested  food  items.  Then,  you
should  make  your  recommendation.
This
2-16