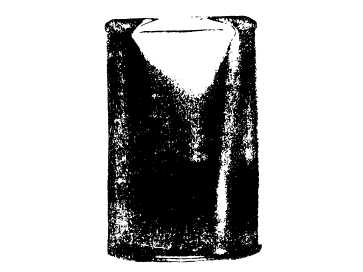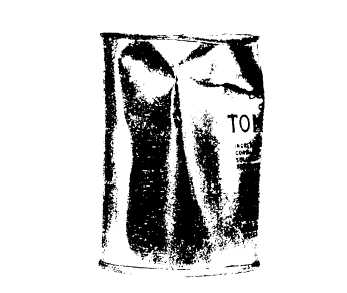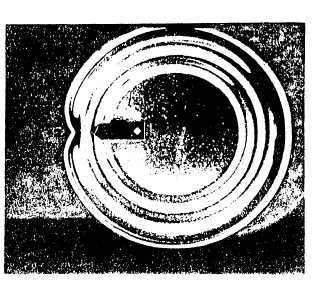 1-4, and 1-5 should not be used. Rusty cans maybe used
provided the rust does not penetrate the can. Rust that
can be wiped off is not penetrating.
CAN INTERIOR.—

Contents  should  be  removed,
the can rinsed, and the interior examined for pinholes
against a strong light. If pinholes are present, contents
should  be  discarded.
CONTENTS.—
Contents   of   can   should   be
examined for characteristic odor and appearance of the
product.
REJECTION OR SURVEY.—

Except for coffee
and molasses, foods contained in cans displaying the
following  conditions  are  unsatisfactory  and  should  be
surveyed and disposed of:
Figure 1-5.—A severely dented can in which the end seam is
pulled out of position.
Figure 1-3.-Severe angularly dented can with crimping of
body.
Figure 1-4.-Severe dent that buckles end seam of a can.
Pinholes-tiny  holes  caused  by  action  of  food  acids
during prolonged storage.
Swells  (or  swellers)—both  ends  of  cans  bulge
outward because of bacterial action and gas production.
Ends do not yield to finger pressure. (Molasses may
bulge  in  tropical  areas,  but  this  condition  is  not
dangerous and the product need not be rejected for this
reason.)
Springers—one or both ends bulge outward because
of bacterial action and gas. However, this bulge will
yield on pressure and spring back to bulge condition on
release.
Springers or swellers of coffee containers,
however,  usually  indicate  a  properly  sealed  container
that has merely retained natural coffee-bean gases.
Flippers—both ends are flat, but one end will bulge
out  ward  when  the  opposite  end  receives  pressure.  This
condition is caused by either bacterial action or chemical
action  resulting  in  gas  production.
Spoiled or Damaged Food Products
Several precautions eliminate the factors that cause
spoiled  or  damaged  food  items.  These  precautions
include  inspection  for  quality  upon  receipt,  proper
storage and handling, and maintenance of required
temperatures  relative  to  each  respective  phase  of  the
operation. The absence of any one of these precautions
may encourage food spoilage and damage.
The   following   hazardous   material   should   be
disposed of accordingly, using the applicable survey
procedures outlined in NAVSUP P-486, volume I:
1-11