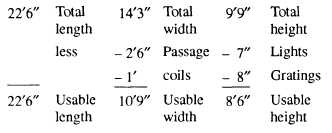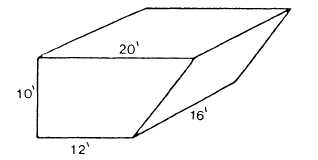 from the bulkhead along both the long sides of the space.
Also, a 30-inch passageway should be provided down
the center of the space. Study figure 12-5 and notice the
allowances that will have to be made for the coils and
passageway. In addition, the lights extend down 7 inches
from the overhead, and gratings 8 inches high were
placed on deck as shown in figure 12-5, the side view.
To find the cubical capacity of this storage space,
write down the actual dimensions of the space. Then
subtract the dimensions of the allowances you will need
to make, like this.
Using the new dimensions, proceed as before.
22 1/2 x 10 3/4 x 8 1/2 = 2,055 15/16 cubic feet.
You may have a storage space shaped like the one
shown in figure 12-6. First, you will have to get the
average  width  by  adding  the  two  widths  together  and
dividing by 2.
Then complete the problem by multiplying this
average width by the length and by the height.
16' x 16' x 10'= 2.560 cubic feet.
Special Space Problems
Some food items, such as frozen meats, should be
kept in a special type of storage. The capacity of these
spaces  limits  the  amounts  you  may  order.
When planning for an extended cruise, you may find
that freeze space on your ship is not adequate to store
the total meat requirements. You will want to load
Figure  12-6.-Irregular  space.
canned meats to supplement your frozen meat supply.
The Table of Substitution Factors for Custom Foods lists
the factors to use when converting pounds of frozen
meat items to canned meat counterparts. This table can
be found in the NAVSUP P-486, volume I, appendix G.
REQUISITIONING FOOD ITEMS
GMs ashore and ships in port normally submit
requisitions  for  authorized  food  items  found  in  the  FSC
to the nearest naval supply support activity. Deployed
ships  should  submit  requisitions  to  a  store  ship  (AF),
combat store ship (AFS), fast combat store ship (AOE),
or  other  afloat  activity.  When  normal  sources  are  not
available, food items may be procured by transfer from
other   military   sources   and   the   United   States
Government departments. Food items such as fresh
dairy  products  and  commercially  prepared  bakery
products,  as  authorized,  normally  are  procured  in  the
United States by placement of delivery orders against
indefinite-type contracts. Material is taken up as a
receipt from purchase. Brand name contracts (Defense
Logistics Agency Supply Bulletin, SB10-500) are not
authorized for use in procuring food items for the GM.
Further  information  concerning  sources  of  supply,
procurement, and local restrictions are contained in the
Procurement section of the NAVSUP P-486, volume 1.
The bulk of your food items will be procured by
submitting requisitions using the DOD Single Line Item
Requisition Document, DD Form 1348 or 1348m, or
applicable requisition documents as required by the
supply  support  activity.
Mechanized  Method
Nonautomated  activities  receiving  semiperishable
food items from a mechanized supply activity within the
United  States  are  provided  prepunched  and  interpreted
decks (computerized cards) of the DOD Single Line
Item Request Issue Document (Mechanical), DD Form
1348m, for all semiperishable food items authorized for
use in Navy GMs.
Automated  customer  activities  do  not  receive
prepunched decks of DD Form 1348m from the supply
point.  Such  activities  prepare  their  own  requisitions.
Any requisitioner may choose to submit manually pre-
pared requisitions using the DD Single Line Item Re-
quisition System Document (Manual), DD Form 1348.
Supply activities with mark-sensing equipment may
vary  local  procedures  as  necessary  for  maximum  usage
of mark-sensing capability. However, the requisition
cards  should  be  of  a  type  and  format  universally
acceptable  to  all  mechanized  activities.
12-8