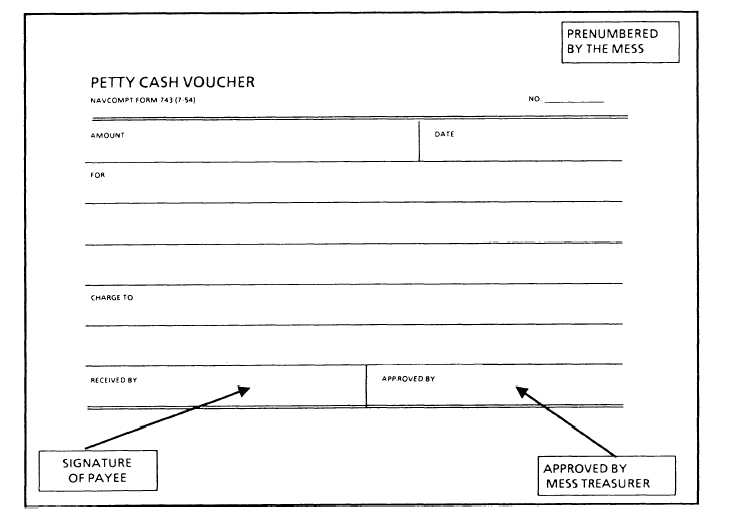 Figure  3-7.—Petty  cash  voucher.
messes with less than 20 members. An example of a
food cost control record is shown in figure 3-8.
Meals  Served  Record  Sheet
This record reflects a summary of all meals that
were  consumed  in  the  mess,  broken  down  by  category
(officers, enlisted, or guests), and further broken down
by breakfast, lunch, and dinner. The document used to
support these figures is the Sale of General Mess Meals,
NAVSUP  Form  1046,  that  is  used  to  record  meal
consumption.
This  record  will  be  used  in  the
preparation  of  the  Computation  of  Commuted  Rations
form. An example of a meals served record sheet is
shown in figure 3-9.
Monthly  Voucher  Folders
All  private  mess  itemized  and  certified  receipts  and
tapes  of  provisions  purchased  locally,  copies  of
vouchers  covering  transactions  with  the  disbursing
officer, and any other vouchers substantiating entries on
the mess statement will be filed in monthly voucher
folders. These folders are submitted to the audit board
and eventually retained by the mess treasurer.
PREPARATION OF MONTHLY FINANCIAL
OPERATING STATEMENT
The mess treasurer is responsible for the preparation
of  the  monthly  financial  operating  statement  consisting
of a cash account that shows cash received (income) and
cash spent (expenses), and a balance sheet that shows
the financial condition of the mess and provides useful
3-11