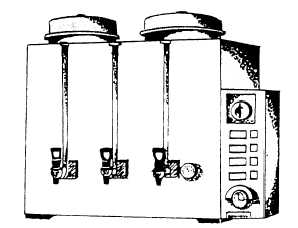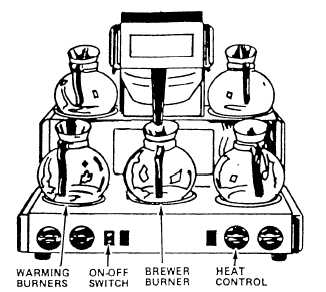 number two contains hot clean water or a sanitizing
solution which is applied with a clean sponge.
5. Special attention should be given to the door
gaskets  to  prevent  damage  and  deterioration.
6. After defrosting, cleaning, and wiping dry, you
should turn the electric supply back on.
SOFT-SERVE  ICE-CREAM
MACHINE
This machine is usually located in the messing area
and  the  patrons  serve  themselves.  The  MSs  are
responsible for preparing the ice-cream mix and cleaning
and sanitizing the machine. It is a must that the machine
be  sanitized  before  and  after  each  use.  Follow  the
procedures of operation according to the technical manual
or the operation procedures posted next to the machine.
Cleaning After Each Use
Soft-serve ice-cream machines are very susceptible
to a rapid bacterial growth of even a little amount of
ice-cream mix left in the machine or on any area the mix
contacted.  Therefore,  following  the  procedures  in
cleaning   the   machine   are   very   important.   The
procedures  are  as  follows:
1. Empty freezer and flush with cold water until
water runs clear.
2. Rinse again with warm water (120°F).
3. Place 1 gallon of hand-dishwashing detergent
and  water  (140°F)  solution  into  the  hopper.  Move  the
switch to the WASH position and operate for 2 minutes.
Draw off water solution.
4.  Rinse  the  interior  of  the  machine  with  clean
water.
5.  Remove  all  detachable  parts,  freezer  door
assembly,  and  drawoff  plunger,  beater,  blades,  and
beater  drive  shaft,  mix  feed  assembly,  and  hopper  cover
assembly.
6. Wash all parts in detergent solution and brush all
surfaces.
Brush  inside  of  freezing  cylinder;  pay
particular   attention   to   the   back   wall   and   shaft
connection. Rinse all parts thoroughly and allow them
to air dry.
7. Store all clean parts in a clean storage area until
next  use.
Sanitize the Machine Before Use
Prepare sanitizing solution according to package
directions  on  calcium  hypochlorite  or  disinfectant
4-25
foodservice.  Wear  disposable  gloves  when  assembling
the machine. Dip each part in solution as machine is
assembled. Pour remaining solution into the hopper and
brush  solution  over  entire  inside  and  lid.  Let  the
machine runs for 1 minute to allow the solution to run
through the mixer. Drain completely and the machine
is ready for use.
COFFEE  MAKERS
Coffee makers used in the GM are normally electric
and  may  be  of  different  types.  The  automatic  twin
coffee urn and the automatic coffee maker (figs. 4-15
and 4-16) are the types used most often in general and
private  messes.
Figure 4-15.—Automatic  twin  coffee  urn.
Figure  4-16.—Automatic  coffee  maker.