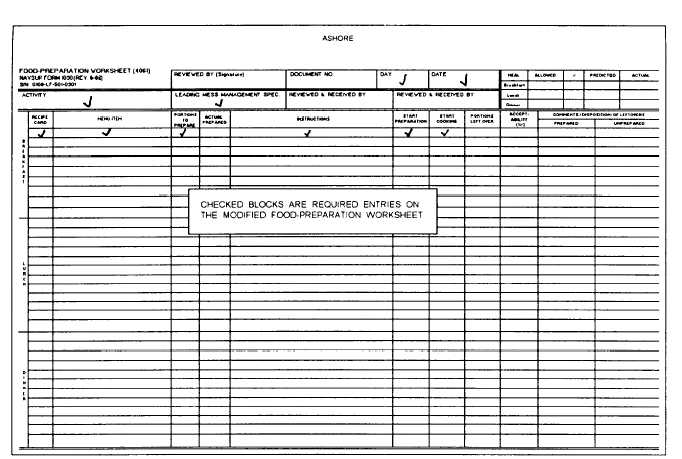 Figure  5-3.—Required  information  on  a  modified  Food-Preparation  Worksheet,  NAVSUP  Form  1090.
recipes and variations that have been tested and proven.
The AFRS also contains the following:
Guidance   cards   with   product   usage   and
preparation   information
Color  photographs  of  finished  products  and  some
stages  of  preparation
How-to-do-it  line  drawings
Standardized  Recipes
All food should be prepared according to the recipes
published in the AFRS or the recipes that have been
approved by the food service officer. Recipes in the
AFRS are printed on 5-inch by 8-inch colored cards.
The use of standardized recipes ensures high quality
in  food  preparation.  It  also  eliminates  guesswork  and
prevents variations in quality and quantity. The use of
exact  amounts  of  the  various  ingredients  produces
accurate  yields,  prevents  leftovers,  and  promotes  food
cost control. The food items needed for the day's menu
are requisitioned from the bulk issue room storekeeper
by the watch captain.
YIELD.—

Each recipe in the AFRS is designed to
yield 100 portions; however, the yield of some recipes is
given in numbers or volume; for example, 2 pans, 8 loaves,
and 6 1/2 gallons, depending upon the food to be prepared.
lNGREDIENTS.—

Ingredients are listed in the
order  used.  The  specific  form  or  variety  of  each
ingredient is indicated; for example:
Flour,   general-purpose
Flour,  bread
The   shape,   size,   or  form  of  an  ingredient  is
specified;  for  example:
Ham.  cooked,  1/2-inch  cubes
Onions, dry, sliced
Nuts,  unsalted,  chopped
Temperatures of ingredients are specified in many
recipes. Descriptive terms are also used; for example:
Egg  whites  (room  temperature)
Liver,  sliced,  partially  thawed
Water,  warm  (110°F)
5-4