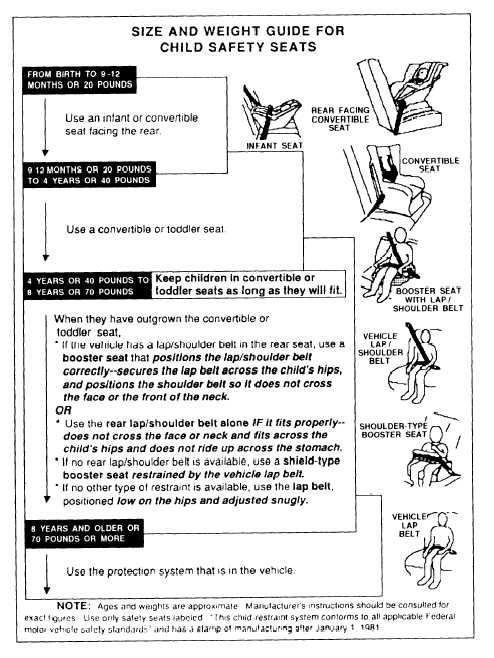 Figure 10-3.—Chi1d safety seats.
a seating position, no one is permitted to ride in that seat.
safety belts are damaged, military personnel arc not
The only exception is buses not equipped with safety
belts in passenger seating positions. If the cargo area of
a vehicle does not have safety belts installed, no one is
permitted to ride there. That means you may not catch a
ride to the ship in the back of a Navy pickup or stake
truck.
The rules are similar for private motor vehicles.

All
Navy personnel, on and off base, are required to wear

a
safety belt when riding in or operating a motor vehicle.
If a vehicle does not have safety belts installed or if the
permitted  to  ride  in  that  vehicle.  Public  transportation,
buses, and taxis are exceptions. You are not permitted
to ride in the cargo area of motor vehicles without using
safety  belts.
CHILD SAFETY SEATS
All children under the age of 4 or weighing less than
40 pounds must be restrained in a child safety seat (fig.
10-3) while riding in a Navy motor vehicle or while
10-3