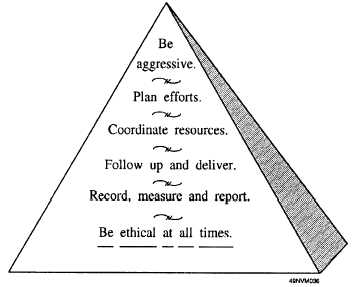 CHAPTER 7
PUBLIC AFFAIRS
The   responsibility   for   promoting   positive   public
relations  is  shared  by  all  Navy  members.  We,  in  the
recruiting business, must be especially attuned to public
affairs  issues.  We  must  be  conscious  that  our  actions-
both on and off duty-directly impact local public opinion
toward  the  Navy.  Public  opinion  plays  a  major  role  in
our   recruiting   success.   As   a   member   of   the   Career
Recruiting  Force  (CRF),  you  will  need  to  train  your
people  on  public  affairs  liaison,  participation  in  public
affairs events, the use of exhibits, and public speaking.
You should also be able to provide effective input to your
Navy recruiting district's (NRD's) advertising plan. This
still  and  chapter  highlights  each  of  these  subjects.  The
strongest  public  affairs  message,  however,  is  sent  by
each    recruiter's    daily    appearance    conduct    in    the
community.
PUBLIC AFFAIRS PROGRAMS
Every NRD will have a public affairs program. You
should familiarize yourself with the local instructions for
specific policies and guidance. The  

Standard  Operating
Procedures  

(SOP)  

Manual,  

COMNAVCRUITCOMINST
5400.2,  also  contains  a  chapter  on  public  affairs  within
the  Navy  Recruiting  Command  (NRC).  The  following
paragraphs will cover NRC public affairs principles and
objectives.
PUBLIC AFFAIRS PRINCIPLES
Navy   public   affairs   is   a   three-part   discipline
consisting  of  public  information,  community  relations,
and internal relations. Effective public affairs programs
and   activities   will   support   effective   recruiting.   The
following    principles    are    provided    to    guide    NRC
personnel  at  all  levels  when  planning  and  executing
public affairs programs and activities:
·
All  public  affairs  programs  and  activities  must
be aggressive.
·
They     must     plan     efforts     and     coordinate
resources.
·
They  must  follow  up,  deliver  on  promises,  and
complete all projects.
·
They    must    record,    measure,    and    report
activities throughout the command.
·
They must be ethical at all times.
Figure  7-1  graphically  shows  the  principles  of  public
affairs in a pyramid.
Figure 7-1.—The pyramid of public affairs principles.
7-1