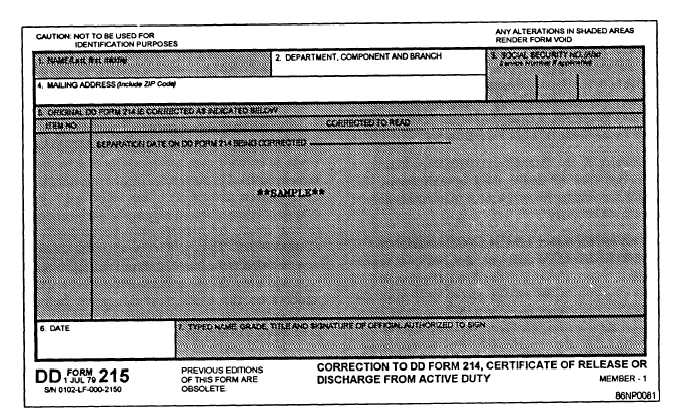 Figure 5-26.—Correction to DD Form 214, Certificate of Release or Discharge from Active Duty, DD Form 215.
procedures involved in a request for a change of name
the   member's   entitlement   to   travel   and
or a correction of a date of birth. You will also read
about the importance of signatures, the requirements for
reporting a change in citizenship by foreign nationals,
the  procedures  for  making  corrections  to  enlisted
service  records,  and  the  purpose  of  the  Board  for
Correction  of  Naval  Records  (BCNR).
ADDRESS AND HOME OF RECORD
As  a  PN,  you  must  understand  and  be  able  to
explain the difference between an enlisted member's
home
address
and his or her  
home
of
record
.
You
should also be able to explain to your shipmates why
this information is required in the service record.
Reasons
According   to   the   MILPERSMAN,   Article
5010140,  a  member's  address  is  officially  recorded  by
the Navy for the following reasons:
.   To   communicate   with   the   member   when
necessary.
.  To  provide  a  means  for  establishing  and
recording the home of record of a member at the
time of his or her entry on a tour of extended
active duty. (This is for purposes of determining
5-41
transportation   allowances.)
A home address or address recorded as the home of
record for a member's current tour of active duty or
enlistment serves as evidence of, but does not in itself
establish,  the  member's  legal  domicile  or  residence.
Home Address Versus Home of Record
The  main  difference  in  a  member's  home  address
and home of record is that the home of record remains
unchanged during a continuous tour of active duty
regardless of changes in the member's home address
during that time.
For an enlisted Navy member who is immediately
placed on active duty, the home of record is the address
recorded  specifically  as  that  member's  home  of  record
on the official enlistment document form at the time of
the  member's  current  enlistment  or  reenlistment.
In  the  case  of  an  enlisted  member  who  is  not
immediately  placed  on  active  duty  upon  enlistment  or
reenlistment, the member's home of record during a
relevant tour of active duty is the home address recorded
at  the  time  of  enlistment  unless  a  change  in  the
member's  home  address  has  been  recorded  before  the
member is in actual receipt of orders to the tour of active
duty.