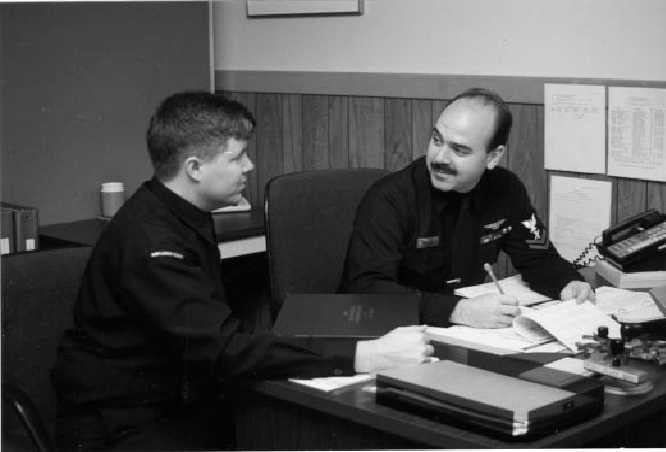 Figure 8-10.—A Legalman assisting a service member.
CONFIDENTIAL AND PRIVILEGED
CHARACTER OF SERVICE
Information   and   files   pertaining   to   legal
assistance  clients  are  confidential  and  privileged
under  the  law  and  applicable  professional  rules
and  guidelines.  This  confidentiality  is  separate
and distinct from military security classifications.
Confidential   and   privileged   matters   are   not
disclosed  to  anyone  by  the  attorney  providing
legal assistance, except on the specific permission
of   the   client   or   when   the   responsible   legal
assistance attorney determines  that  disclosure  is
authorized or required by law or applicable rules
of  professional  conduct.  Disclosure  of  otherwise
confidential and privileged information cannot be
authorized  or  made  lawful  by  order  of  superior
military authority.
Other  attorneys  may  be  granted  access  to
confidential    and    privileged    information    for
supervisory and quality assurance purposes or to
obtain  their   assistance   in   the   case.   Attorneys
granted access to information in this instance are
bound   to   maintain   the   confidentiality   of   the
information.   Office   records   for   prevention   of
conflicts  of  interest  and  statistical  data  can  also
be   derived   from   information   provided   by   the
client.
If requested by the member's CO or officer in
charge (OIC), information on  whether  a  member
of a command reported to a legal assistance office
is  generally  provided.  Information  concerning  a
member's    presence    in    the    office    cannot    be
disclosed,  however,  if  doing  so  would  reveal  the
nature   of   conversations,   advice,   or   assistance.
The   nature   of   the    legal    assistance    or    the
substance  of  the  conversations  or  advice  cannot
be provided without the client's consent.
LEGAL ASSISTANCE SERVICES
Advice  and  service  regarding  the  following
matters are normally available to eligible persons
at legal assistance offices, but may be limited due
to the availability of resources:
8-19