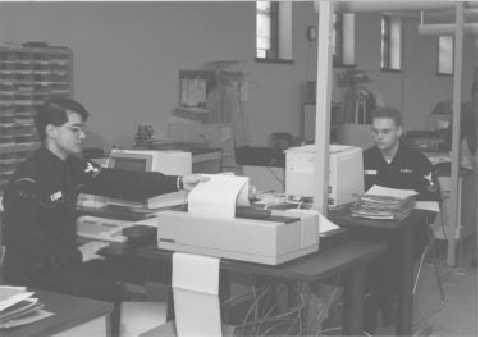 Figure 15-5.—Personnelmen using the source data system at a PERSUPPDET.
·
Agreement to Extend Enlistment, NAVPERS
1070/621
·
Assignment to and Extension of Active Duty,
NAVPERS 1070/622
·
Family Separation Allowance, NAVCOMPT
3057/3058
·
Military Pay Order, NAVCOMPT 3060/3061
·
Orders for Hazardous or Special Duty,
NAVCOMPT 3062
·
Overseas Station Allowance, NAVCOMPT
3063
·
Basic Allowance for Subsistence, NAVCOMPT
3064
·
Uniform Allowance Claim, NAVCOMPT 3066
·
Detaching Endorsement, NAVCOMPT 3067
·
Reporting Endorsement, NAVCOMPT 3068
Remember,  each  event  reported  via  the  SDS
has a separate event code. In some cases, a single
form  may  be  used  to  report  multiple  events  and
also report a variety of event codes. For example,
there  are  two  separate  transaction  codes  that
start  FSA  Ship  and  FSA  Temporary  (Tmpry).
They are event

FS2

for Ship, and event

FS3  

for
Tmpry.
In   addition   to   a   specific   event   code,   the
NAVCOMPT Forms 3060 and 3061 also contain a
reason  for  changes  code.  

For  example,  the  event
code for SDS transactions on the 3060 or 3061 is
MPO.  

Each  action  taken  also  has  a  

reason  for
change   code.   

For   example,   when   commuted
rations are started, the event code would be

MPO
and  the  reason  for  change  code  would  be  

A07.
When  commuted  rations  are  stopped,  the  event
code  remains  

MPO  

while  the  reason  for  change
code would be

S21.
SOURCE DATA SYSTEM GENERATED
REPORTS
The  SDS   has   the   capability   of   generating
many  reports,  which  are  classified  as  standard
and ad hoc reports.

Standard

reports

include the
following reports:
·
Activity locator reports
·
Student locator reports
·
Navywide advancement eligibility reports
·
E-2 and E-3 eligibility reports
·
Good conduct award eligibility reports
·
Performance evaluation due listings
·
Expiration of active obligated service (EAOS)
and Fleet Reserve (FLTRES) reports
·
Projected rotation date (PRD) reports
15-9