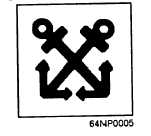 represented by two Navy ratings: Boatswain's Mate
(BM) and Signalman (SM).
Boatswain's Mate.
—The  insignia  for  Boatswain's
Mate (BM) is represented by the crossed anchors.
Figure 2-3.—Enlisted occupational fields and specialty marks of associated ratings—Continued.
BMs  train,  direct  and  supervise  personnel  in
military duties in all activities relating to marlinespike;
deck  and  boat  seamanship;  painting,  maintenance,  and
upkeep of the ship's external structure; rigging; deck
equipment;  and  boats.
BMs take charge of working
parties; perform Seamanship tasks; and act as petty
officers  in  charge  of  picketboats,  self-propelled  barges,
tugs,  and  other  yard  and  district  craft.  They  also
maintain discipline as master-at-arms and police petty
officers; serve in, or take charge of, guncrews or damage
control  parties;  and  operate  and  maintain  equipment
2-9