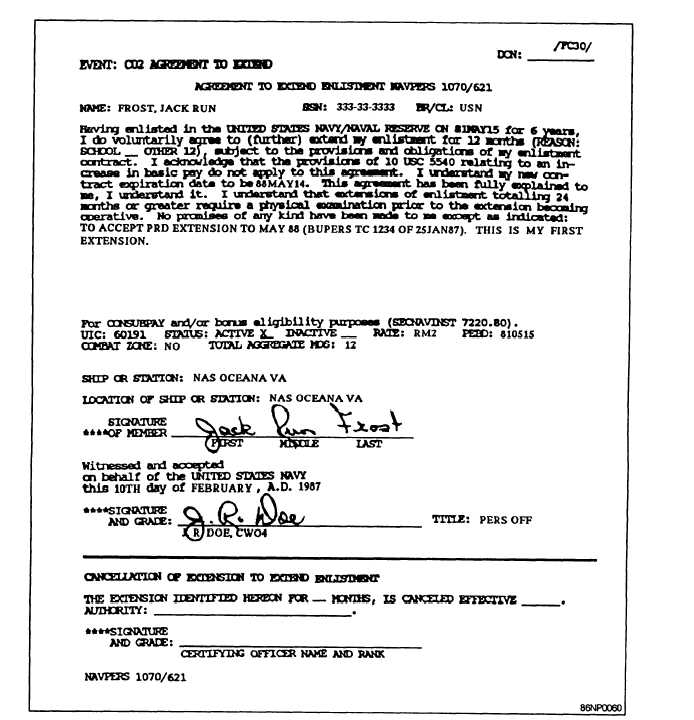 document,  such  as  the  one  shown  in  figure  5-6.
1050150,  1050180,  and  1050250.  Signatures  are
Activities not supported by SDS use the preprinted
entered   on   the   original   document   as   per   the
non-SDS  NAVPERS  1070/621  form,  such  as  the
MILPERS MAN, Article 5030100. The signed original
example shown in figure 5-7.
agreement is sent to the CHNAVPERS (PERS 313C1)
The   NAVPERS   1070/621   is   prepared   and
for  the  permanent  microfiche  record.  A  signed  copy  is
distributed according to guidelines contained in the
kept  in  the  field  service  record.  After  a  member
DFAS  PAYPERSMAN  or  SDSPROMAN,  as
reenlists, file a reproduced copy of this page under the
appropriate,  and  the  MILPERSMAN,  Articles
performance  divider  of  the  enlisted  member's  service
Figure 5-6.—SDS Agreement to Extend Enlistment, NAVPERS 1070/621.
5-12