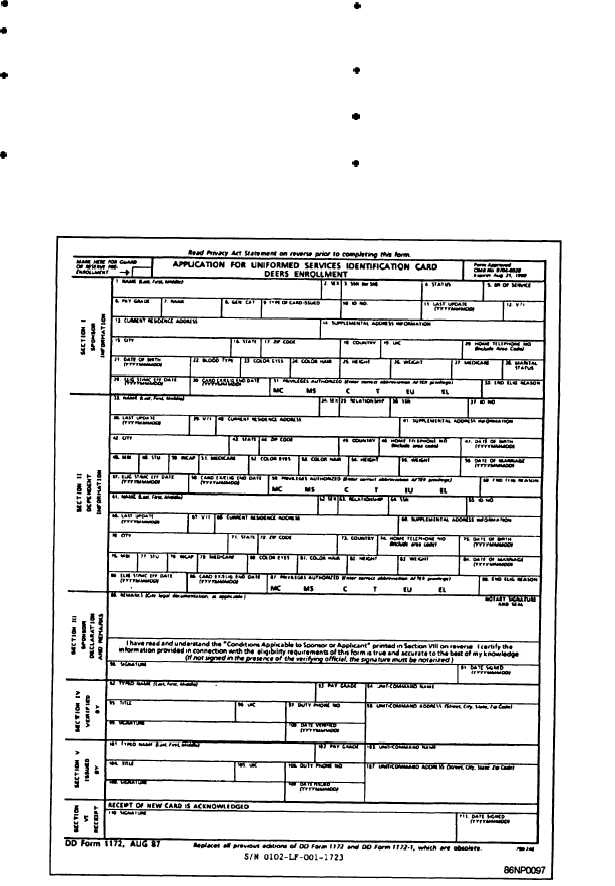 l    Dependency/Status  Action,  NAVCOMPT  3072.
.     Servicemen's Group Life Insurance Election and
Certificate,   SGLV-8286.
l  Current copy of the Application for Uniformed
Services    Identification    Card/DEERS
Enrollment, DD Form 1172. (A sample of this
form is shown in fig. 6-7.)
l  Dependency Application/Record of Emergency
Data,  NAVPERS  1070/602.
.   Officer   Photograph   Submission   Sheet,
NAVPERS 1070/10. (A sample of this form is
shown in fig. 6-8.)
l  Certificate  of  Release  or  Discharge  from  Active
Duty, DD Form 214 (ALL).
.   Ready   Reserve   Transfer   Request/Service
Agreement,  NAVPERS  1200/1.
.   D e l i v e r y    o f
Temporary/Permanent
Appointment, NAVPERS 1421/7 (for present
grade).
Figure 6-7.—Application for Uniformed Services Identification Card/DEERS Enrollment, DD Form 1172.
6-10