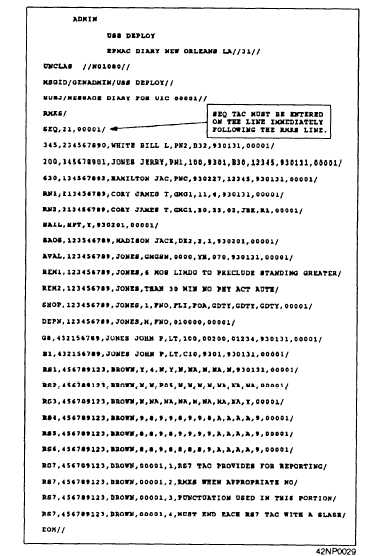 transactions should be held and consolidated in one
transmission  when  capability  is  restored.
.  When  the  loss  of  SDS  or  SDS  increment  3
reporting capability is expected to be for more than 14
days,   the   activity   should   transmit   personnel
transactions via the DMRS per guidelines set forth in
the DMRSMAN.
Additional information is contained in section 1 of
the  DMRSMAN.  You  should  be  aware  that  SDS
increment 3 will be distributed in different phases. By
the time this TRAMAN is published, it is possible that
you will be working with phase A or phase B.
DIARY MESSAGE
PREPARATION
Whenever you are tasked with preparing diary
messages,  always  refer  to  the  DMRSMAN  for  official
guidance. The information in the following paragraphs
is intended to give you only a brief overview of diary
message preparation. As you read this section, refer to
the  sample  message  diary  in  figure  7-14.  Remember,
the  information  in  this  TRAMAN  is  only  an
introduction  to  diary  message  preparation.
As  a  PN,  you  must  be  aware  of  message  diary
format requirements. Let's take a brief look at some of
these requirements, starting with the message diary
address  and  subject  lines.
ADDRESS
The  following  unique  plain  language  address
(PLA) has been assigned for the DMRS:
EPMAC DIARY NEW ORLEANS LA//31//
Figure  7-14.—Sample  message  diary.
7-20