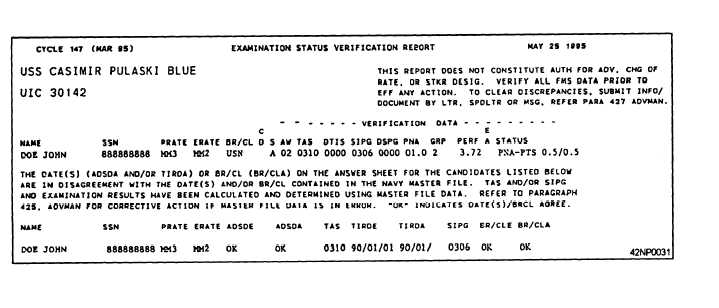 Candidates   who   meet   the   TIR   and   other
advancement   requirements   may   compete   for
advancement whether or not they have accrued the DOD
prescribed  TAFMS.
The  number  of  advancement
quotas  that  may  be  filled  by  early  candidates  is
determined by DOD manning restrictions to a maximum
of 10 percent of the total enlisted forces in each paygrade
E-5 through E-9 and 20 percent for E-4. Advancement
of early candidates may require a higher FMS than the
regular  candidate  competing  for  the  same  rating.
REGULAR AND EARLY ADVANCEMENT
CANDIDATES
Regular  advancement  candidates  are  members
whose TAFMS equals or exceeds the DOD TAFMS by
the end of the fiscal year in which the terminal eligibility
date  (TED)  is  computed.  Early  advancement  candidates
are members whose TAFMS falls short of the DOD
TAFMS by the end of the fiscal year in which the TED
is computed.
HIGH-YEAR  TENURE
At the other end of the early advancement spectrum
is a system used to provide fair promotion opportunities.
This  system  is  known  as  HYT  that  prescribes  the
maximum  years  of  active  service  allowed  between
paygrades for professional growth (advancement in
rate) to occur.
The HYT limit is 10 years' active service for E4,
20 years for E-5 and E-6,24 years for E-7, 26 years for
E-8, and 30 years for E-9.
With the ongoing reduction in personnel as a result
of the drawdown, it is possible that the maximum years
of  active  service  a  Navy  member  maybe  authorized  to
serve on active duty will change. If you want to verify
the number of years a person is allowed to remain on
active duty, you must refer to  

Reenlistment  Quality
Control Program,

OPNAVINST 1160.5, and/or other
current directives indicating HYT restrictions.
RESULTS OF NAVYWIDE
ADVANCEMENT EXAMINATIONS
The following paragraphs briefly discuss the results
of  the  Navywide  advancement  examinations  for  petty
officer third class through petty officer first class, chief
petty  officer  through  master  chief,  rating  change
authorization,  and  appointment  certificates.
PETTY OFFICER THIRD CLASS
THROUGH PETTY OFFICER FIRST CLASS
NETPMSA   issues   examination   results   and
advancement  authority  to  individual  commands  by
Examination  Status  Verification  Report  (ESVR),  Rating
Change Authorization (RCA), data mailer, message, or
letter. Figures 9-4 and 9-5 show you samples of an
ESVR and an RCA.
After  receipt  of  the  examination  results  and  final
check to confirm all requirements have been met and all
Figure  9-4.—Examination  status  verification  report  (ESVR).
9-7