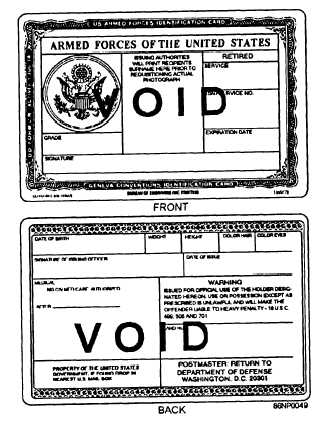 MEMBERS AND FORMER MEMBERS
ENTITLED TO RETIRED PAY
The   United   States   Uniformed   Service
Identification Card, DD Form 2 (RET) is printed in
blue  security-type  ink.  It  is  issued  to  assist  in
identifying  the  bearer  as  a  retired  member  of  the
uniformed services entitled to retired pay. It is not a
pass. This card is the property of the United States and
must be kept in the personal custody of the retired
member  at  all  times.  It  must  be  surrendered  for
identification  or  investigation  when  required  by  proper
military authority. Refer to figure 3-10, which shows
the front and back of an intentionally voided DD Form
2 (RET).
The DD Form 2 (RET) is issued to members of the
U.S. Navy and Naval Reserve who are entitled to retired
pay.  This  includes  those  on  the  Temporary  Disability
Retired List (TDRL), members of the Fleet Reserve
(FLTRES) entitled to retainer pay, and former members
of  the  Naval  Reserve  entitled  to  retired  pay  under
chapter 67 of 10 U.S.C.
Figure  3-10.—United  States  Uniformed  Service  Identification
Card, DD Form 2 (RET).
Members retiring from active duty must surrender
their active duty ID card as well as their dependents' ID
cards before they can receive a DD Form 2 (RET) and
their  dependents  can  receive  dependent  ID  cards
indicating the member's change in status. DD Form 2
(RET) authorizes access to the Civilian Health and
Medical   Program   of   the   Uniformed   Services
(CHAMPUS). By law, active duty members are not
entitled to CHAMPUS benefits. For this reason, the DD
Form 2 (RET) may not be issued more than 90 days
before  the  member's  retirement  date.  Members  going
on terminal and/or separation leave should receive a
verified  DD  Form  1172,  with  an  effective  date  of
retirement  for  their  dependents.
The rules for handling and using this ID are similar
to those for the other military IDs. The DD Form 2
(RET) may be photocopied when necessary to facilitate
administrative  requirements,  such  as  admission  to
medical facilities. The reproduction of this ID card for
any other purpose, however, is prohibited. Any person
willfully altering, damaging, lending, counterfeiting,
issuing,  or  using  a  DD  Form  2  (RET)  in  any
unauthorized manner is subject to the penalties under
18 U.S.C. 499, 506, or 701.
Personnel who have been retired and require a
replacement ID card for themselves or their eligible
dependents must go to an ID card-issuing activity such
as  a  PERSUPPDET  with  appropriate  documentation  to
prove their status. Appropriate documents include the
Certificate  of  Release  or  Discharge  from  Active  Duty,
DD Form 214, the current mutilated ID card, and a valid
driver's  license.
Additional   information   and   preparation
instructions  concerning  ID  cards  for  members  and
former members entitled to retired pay are contained in
the  MILPERSMAN,  Article  4620250.
DEPENDENTS OF ACTIVE DUTY AND
RETIRED  MILITARY  PERSONNEL
Just as active duty members or retired members are
issued ID cards for identification purposes and to gain
certain privileges, so are their dependents. Since some
of  your  PN  duties  may  involve  issuing  ID  cards  to
dependents,  you  must  know  the  proper  rules  and
guidelines.
DD Form 1173
Authorized  dependents  are  issued  the  Uniformed
Services  Identification  and  Privilege  Card,  DD  Form
3-21