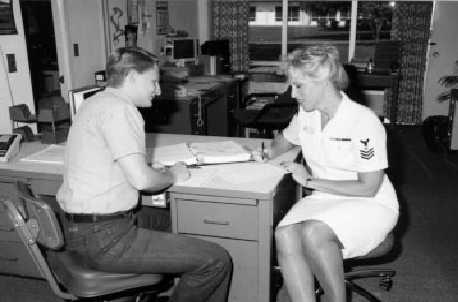 Figure 11-2.—A PN is shown here helping a First Class Petty Officer complete some of the
documents required in conjunction with her overseas transfer

.
requirements   with   the   exception   of   Barking
Sands, Hawaii.
OVERSEAS   SCREENING   REQUIREMENT
FOR DIEGO GARCIA AND MIDWAY
ISLAND
According   to   chapter   24,   item   275   of   the
Enlisted

  

Transfer   Manual   (ENLTRANSMAN),
NAVPERS 15909, modified  overseas  screening  is
required  for  personnel  being  assigned  to  Diego
Garcia    and    Midway    Island.    The    Report    of
Suitability  for  Overseas  Assignment,  NAVPERS
1300/16, parts I and II, and questions 3,7,8, and 9
of  part  III  should  be  completed  by  appropriate
personnel.   Appropriate   personnel   include   the
medical
overseas
screening
coordinator,
commanding   officer   (CO)   or   officer   in   charge
(OIC)  of  the  medical  treatment  facility,  and  the
member's CO.
The   CO   should   also   complete   part   III   of
NAVPERS   1300/16   requiring   his   or   her   final
approval. Figure 11-3 shows you  a  blank  sample
of a NAVPERS 1330/16.
ASSIGNMENT   OF   PERSONNEL   TO   KEY
WEST, FLORIDA
The  Key  West,  Florida,  area  is  considered  a
remote  or  isolated  location.  As  such,  it  has  very
limited government and civilian medical services
available  to  provide  sufficient  care  to  members
and  their  dependents  in  some  medical  specialty
areas.    Therefore,    appropriate    personnel    as
identified  previously,  must  complete  parts  I  and
II as well as the section of part III of NAVPERS
1300/16 requiring the CO's final approval.
OVERSEAS SCREENING REQUIREMENT
FOR   ALL   USNS   VESSELS   AND   OTHER
UNITS OPERATING IN AN OVERSEAS
AREA FOR CONTEMPLATED PERIODS OF
1 YEAR OR MORE
Members    being    assigned    to    the    following
activities require overseas screening:
·
Any  USNS vessel
·
Oceanographic unit
·
USS La Salle
·
Commander, Maritime Propositioning
Ships Squadron (COMPSRON ONE,
TWO, and THREE)
·
Commander, Middle East Force
(COMIDEASFOR) (staff)
·
Commander, Standing Naval Forces
Atlantic (COMSTANAVFORLANT)
(staff)
while  these  vessels  or  units  are  homeported
in the Continental United States (CONUS),  their
11-2