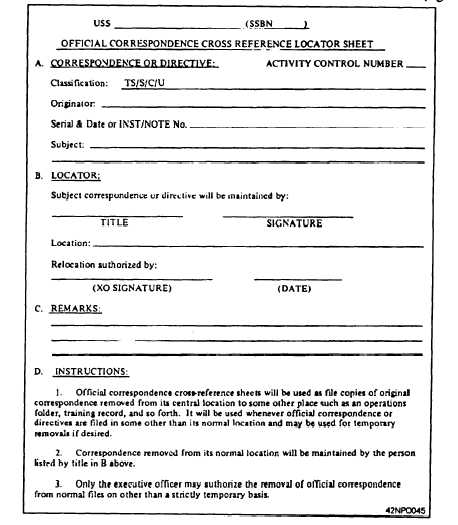 retains the routed flimsy control form and disclosure
sheet   for   his/her   records   and   control   of   the
correspondence.
The TSCO then files the original control form by
holder and ACN sequence. In this manner the TSCO
has an up-to-date record of all Top Secret material held
by individuals within the command.
The  TSCO  annotates  the  flimsy  of  the  OPNAV
Form 5216/10 in the incoming Top Secret log as to the
disposition of the correspondent.
Top Secret material must be handled according to
OPNAVINST  5510.1.  It  must  be  under  constant
surveillance   by   authorized   and   properly   cleared
personnel  when  outside  the  safes.  A  continuous  chain
of  receipts  must  be  maintained.
Responsibilities
Department heads are responsible for classified
material  that  enters  their  department's  mail  system  for
internal  routing  or  for  permanent  retention.  All
officers  should  review  unclassified  mail  routing  at  least
once  each  working  day.  When  an  officer  has  been
designated  

for information  

on the routing stamp, he/she
should   read   the   correspondence   and   initial   the
appropriate section of the routing stamp. If an officer's
action   is   required   on   a   particular   piece   of
correspondence, he/she is responsible for taking action
before the date indicated. An officer who is designated
to   retain   correspondence   may   remove   the
correspondent  when  all  other  routing  is  completed
following the prescribed procedures as outlined for
retention of classified documents and return of control
sheet  originals.
CROSS-REFERENCE  LOCATOR  SHEETS
The  spread  of  classified  material  through
indiscriminate distribution or copy reproduction is a
constant  source  of  difficulty.  When  classified  material
is  indiscriminately  reproduced,  accounting  is  enlarged
or  circumvented  and  updating  generally  fails.  A
cross-reference locator sheet (fig. 4-5) should be kept
Figure  4-5.—Cross-reference  locator  sheet.
4-8