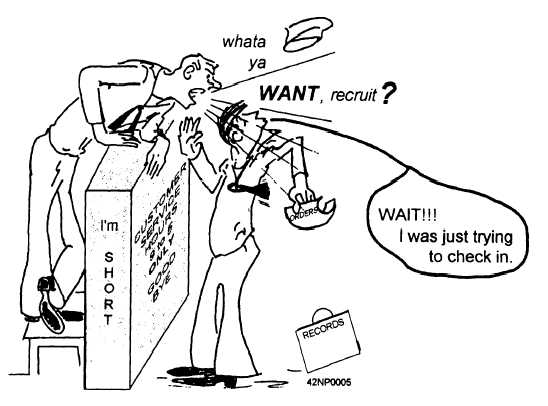 that office feeling that you can always return, at any
time, and be confident that they will provide you with
the assistance you need. This is a realistic expectation.
Now,   change   your   position   from   the   person
seeking assistance to the person behind the counter
providing assistance. Just imagine how customers feel
when they come to the personnel office and they do
not  receive  the  help  they  need  or  deserve.  Look  at
figure 1-5. How would you feel if you were the person
being served by an actual PN who acted just like the
PN shown in this figure? It is not a good feeling, is it?
Remember  one  thing,  always  put  yourself  in  the
customer's shoes. Think of how you, as a customer,
would like to be treated, If you remember this, you will
become
certainly
possible.
not  have
answers.
a  more  conscientious  PN  and  you  will
try to provide the very best customer service
Take care of those who need help. If you do
the  answers,  find  out  who  does,  and  get  the
THE CUSTOMER'S FIRST IMPRESSION
Customers form first impressions about you and
your office the very first time they come in for help.
Therefore,  it  is  important  for  you  to  create  a  positive,
lasting  impression.  You  may  handle  many  customers
in the course of a day. Remember that every customer
deserves  the  same  courteous  treatment.  Take  care  of
each customer in a professional manner and move on
to the next one. The fact that you must handle many
customers  during  the  course  of  a  day  may  affect  your
mood. If you are in a bad mood, the customer will sense
it and feel very uncomfortable around you. Therefore,
you  should  learn  to  control  your  moods  and  your
temper.
If you feel that you
customer  needs  because
someone  else  who  will
yourself. This is in the
customer.
cannot provide the service a
you are having a bad day, get
be able to help, and excuse
best interest of you and the
A   customer's   impression   of   you   will   usually
extend to the entire office. For example, if a customer
has a particularly complicated problem, and you are
able  to  help  him  or  her  solve  it  by  looking  up  the
applicable  reference,  the  comment  from  the  customer
to shipmates might be,  "That PN3 John Doe in the
personnel office is on the ball." It is even more likely
that the customer's comment will be, "That personnel
office  is  on  the  ball.  They  solved  my  problem  because
they know what they are doing."
Figure 1-5.—Impolite behavior results in bad customer service.
1-10