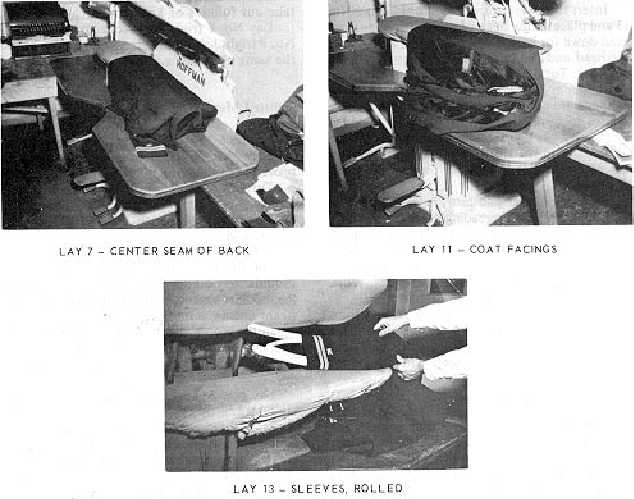 119.37.2
Figure 6-8.-Lays 7, 11, and 13 for pressing uniform coats

.
being worn. Distribute the extra fullness over the
length of the collar and steam freely.
In lay No. 4, place the right front of the coat
at an angle to bring out the chest. Never stretch
the front of the coat; gather in the  front  slightly
and  shrink  it  to  the  proper  length.  Steam  well
before applying pressure, then vacuum dry.
See that the pocket is smooth. Move the coat
forward on the buck for lay No. 5. The small end
of the buck fits into the chest about 1 inch below
the  armhole  pit  and  within  2  or  3  inches  of  the
side seam. Any fullness on the dart seam should
be taken in between the pocket and the armhole
pit.
In lay No. 6, place the right half of  the  back
on the buck so that the lay is about  1  inch  from
the  right  armhole  and  about  2  inches  below  the
collar. The side seam slants in from the armhole;
the bottom of the seam is about 4 inches from the
front edge of the buck.
The   center   seam   in   the   back   of   the   coat
should be placed in the center line of the buck for
lay  No.  7  (fig.  6-8).  See  that  the  bottom  edge  of
the  under  collar  is  placed  even  with  the  edge  of
the   buck.   Any   fullness   in   the   center   seam
between the shoulders should be taken in.
Continue on around the coat, making lay No.
8 (left half of coat back), lay No.  9  (left  side  and
pocket),   and   lay   No.   10   (left   front   edge)   to
correspond to lays 6, 5, and 4.
Place the right facing of the coat fronton the
buck, facing up as shown in lay No. 11. This lay
takes in the coat edge from the bottom of the coat
6-13