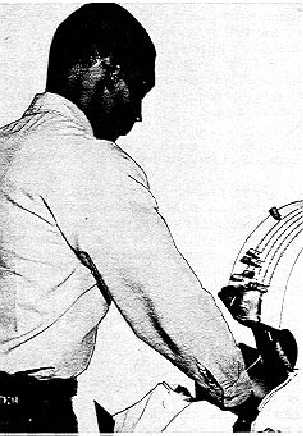 ·

Tropical shorts—On the  inside  waistband  of
shorts,  right  side,  in  line  with  the  outside  leg
seam.
·

   

Socks—Socks   are   NOT   marked;   instead,
marks  should  be  put  on  a  piece  of  sheeting  and
then placed inside a standard 10-inch by 15-inch
laundry  net  used  for  washing  socks.  The  socks
should be untied and loose in the net. A separate
net should be used for each individual.
·

Undershirts—On the inside, 1 inch to the left
of the label.
RIBBON-TYPE LAUNDRY MARKING
MACHINES
Shipboard laundries use a ribbon-type laundry
marking  machine  to  mark  all  clothing  (fig.  5-8).
The  ribbon-type  machine  uses  a  lever  principle
for   setting   the   mark.   The   lever   is   attached
directly   to   the   type   wheels,   each   of   which
contains all numerals and complete alphabet. The
procedure for
Figure 5-8.-Laundryman using the laundry
marking machine

.
marking  laundry  is  the  same  on  most  types  of
marking machines:
1. Put the item to be marked underneath the
tension  plate  and  over  the  platen.  The  tension
plate holds the item in place so the laundry mark
can be placed exactly where you want it.
2. Raise the printing lever forward with both
hands to bring the item to be marked into contact
with the type. Use a steady push on the lever for
best results.
3. Check the mark for clarity. If it is not clear,
repeat the process.
Operating Ribbon-Type Machines
Some things to remember when you are operating
a Ribbonrite marking machine are as follows:
1.  Keep  the  printer  arm  down  when  you  set
the  type  handles.  This  will  prevent  wrinkling  of
the ribbon.
2.  Use  both  hands  to  operate  the  machine.
Use  a  complete  stroke  and  make  quick,  sharp
contact with the article being marked.
3. Unfold shirt collars before you mark them.
Care and Maintenance of Laundry
Marking Machines
A  certain  amount  of  care  and  maintenance
must  be  given  to  laundry  marking  machines  to
keep  them  in  good  working  order  and  to  extend
their  usefulness.  Keep  all  parts  of  the  marking
machine  clean,  type  faces  in  particular.  Proceed
as follows:
1. Bring the type levers to the full FORWARD
position.
2.  Depress  the  clip  on  the  back  of  the  cover
(bottom) and unlock it in front.
3.  Raise  the  index  handles  to  bring  the  type
into the most accessible position and clean it with
the wire brush provided by the manufacturer for
this purpose.
Another way to clean the type assembly is to
remove  the  assembly  by  first  removing  the  pin
inserted   through   the   shaft   channels   over   the
shaft  and  disengaging  the  spring  lock.  After  the
assembly is removed, clean it with a steam gun.
When  parts  of  the  machine  become   worn,
they should  be  replaced  with  new  ones.  Keep
a    supply    of    the    most  used    repair  parts  on
hand.  A
5-12