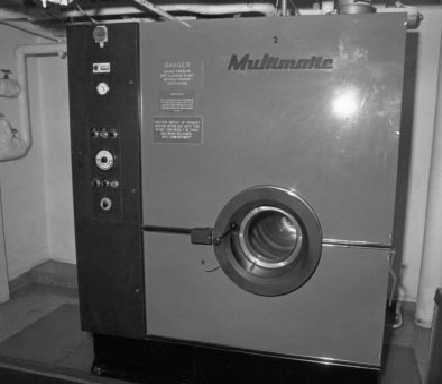 Inhalation
The   initial   effects   of   overexposure   due   to
inhaling   the   solvent   will   be   nose   and   eye
irritation,    lightheadedness,    dizziness,    mental
dullness,  and  uncoordination.  If  these  symptoms
are   present,   the   affected   person    should    be
removed from the contaminated area to fresh air.
Once  the  person  is  removed  to  an  area  where
there  is  fresh  air,  recovery  is  usually  rapid,  If
recovery   is   not   rapid,   symptoms   worsen,   or
breathing has stopped, start artificial respiration
and obtain medical attention at once.
Skin Contact
Perchloroethylene is an excellent solvent and
because  of  this  it  removes  natural  oils  from  the
skin. Prolonged and/or repeated contact with the
liquid may produce rough and  dry  skin  which  is
more susceptible to infections. Exposures that are
infrequent  or  of  short  duration  should  have  no
adverse effects; however, in some persons a mild
irritation, consisting of a mild temporary redness,
may occur.
There   is   little   practical   hazard   from   the
standpoint
of
skin
absorption.
Although
perchloroethylene can penetrate the human  skin
in toxic quantities following massive or prolonged
exposure,  there  is  little  absorption  through  the
skin under normal conditions of use.    Personnel
whose  skin  comes  in  contact  with  the  solvent
should wash the affected area with large amounts
of   warm   water   and   soap.   Any   contaminated
clothes should be removed and dry cleaned.
Eye Contact
While the danger of serious injury is little or
none  if  perchloroethylene  is  splashed  into  the
eyes, a great deal of pain and redness may result.
The eyes should always be flushed or rinsed with
cool    water    immediately    after    contact    and
immediate medical attention sought.
STOWAGE OF THE DRY-CLEANING
SOLVENT
NSTM     S9086-WK-STM-010     of     Sept     87
contains   stowage   requirements   for   chlorinated
cleaning   solvents.   Chapter   670   includes   the
stowage,   handling,   and   disposal   of   hazardous
general-use
consumables.
Do
not
stow
tetrachloroethylene (perchloroethylene) near heat
sources,  or  allow  contact  with  hot  surfaces.  Do
48.89
Figure 6-2.-Multimatic dry-cleaning machine.
6-6