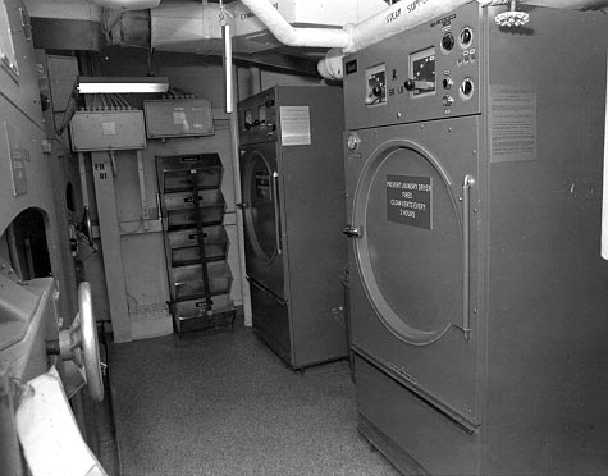 stone,   sprinkled   on   the   damp   cloth   helps   to
remove  grease  and  film  from  the  tub.  Scouring
powder and a brush vigorously applied also work
quite well.
As   an   operator,   be   alert   for   mechanical
problems  that  may  occur  between  maintenance
checks such as the following:
·
Loose latches on cylinder doors
·
Leaky valves
·
Extractor brake working improperly
·
Thermostat working improperly
·
Switches inoperative
·
Timer operating improperly
·
Extract engages roughly
·
Water levels incorrect
·
Safety features inoperative
Laundry    personnel    should    not    attempt
mechanical or electrical maintenance. Remember,
hands  off  electrical  wiring  in  the  electrical  box.
All mechanical or electrical maintenance must be
done
by
qualified
shipboard
maintenance
personnel.
TUMBLER DRYER
Figure   5-23   illustrates   a   group   of   tumbler
dryers.   The   Navy   mainly   uses   the   50-pound
43.73
Figure 5-23.-Battery of tumble dryers.
5-31