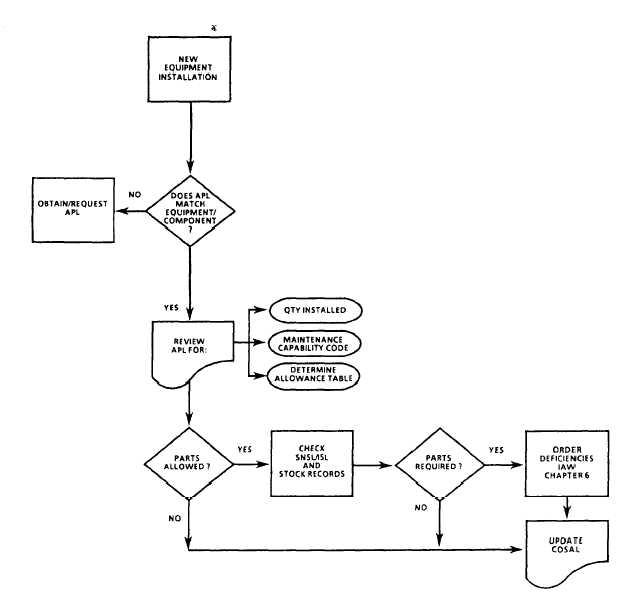 APLs/AELs   are   compared   against   the   actual
installed equipment. Failure to do this could result
in  processing  the  wrong  APL/AEL  and  possibly
ordering  the  incorrect  repair  parts  support.
See figure 2-10.
The  second  step  is  to  validate  the  actual
installed components/subcomponents against the
basic  APL.  The  APL  obtained  from  the  general
distribution  microfiche  bank  is  not  tailored  to
each  equipment  on  every  ship.  It  will  list
components that are supported under their own
APLs  that  may  be  in  your  equipment.  All
components  actually  installed  in  the  equipment
must be validated against the components listed
on  the  basic  APL  to  make  sure  the  correct
component  APLs  will  be  processed.  Therefore,
when   reporting   the   installation   of   a   new
equipment  to  the  SPCC,  you  should  report  the
actual components installed in the equipment in
the same manner. The APLs provided with your
new  COSAL  will  reflect  the  actual  installed
components  as  reflected  in  the  WSF.  The  same
procedures  must  be  followed  in  validating  the
subcomponents  listed  on  the  component  APL.
APL Allowance Table
Now  you  must  determine  the  number  of
installed equipments so you can select the correct
Figure 2-10.—Logic diagram for processing an interim allowance parts list.
2-13