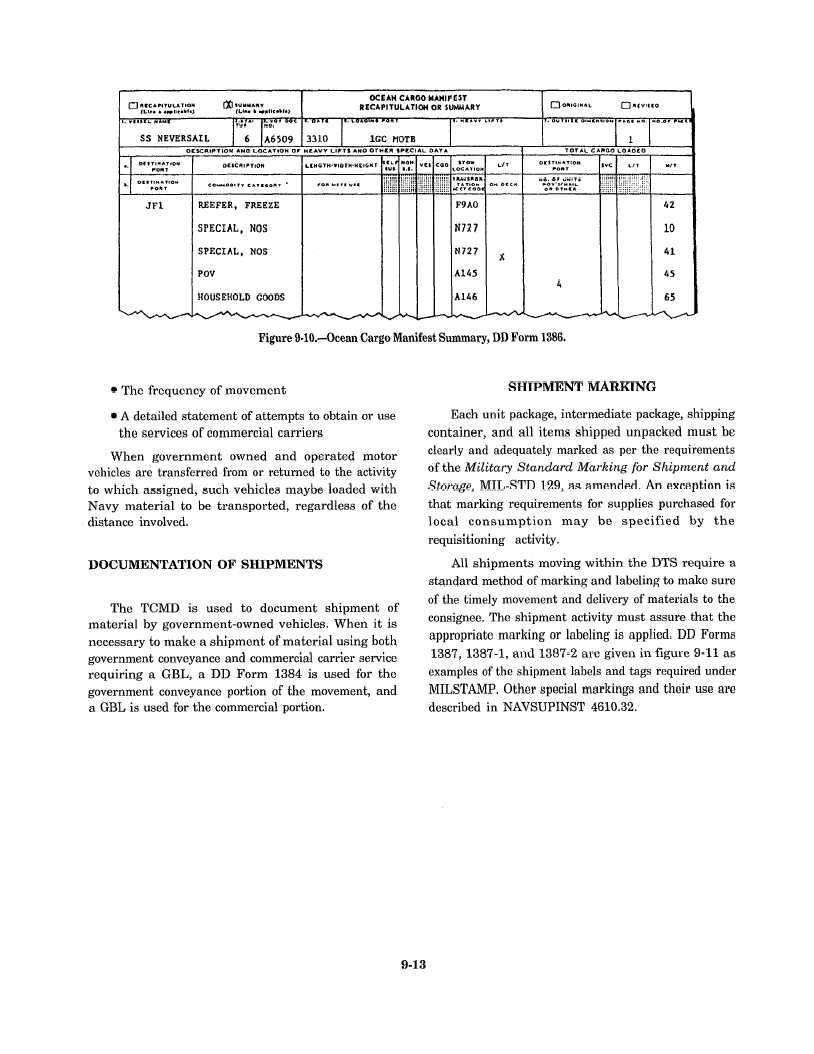 SPECIAL,  NOS
SPECIAL,  NOS
POV
HOUSEHOLD
~000s
::::::    ,w,.c.,
K/i
,.no*
jjjjx;    lLLI
eocz
F9AO
N727
t
N727
A145
Al46
4
Figure 9-lo.-Ocean  Cargo Manifest Summary, DD Form 1386.
l The  frequency    of  movement
l     

A  detailed   statement   of attempts   to  obtain   or  use
the  services   of  commercial    carriers
When    government
owned    and    operated    motor
vehicles  are  transferred   from  or  returned   to  the  activity
to  which    assigned,    such   vehicles    maybe   loaded   with
Navy    material
to  be  transported,
regardless    of  the
distance   involved.
DOCUMENTATION
OF   SHIPMENTS
The    TCMD
is    used    to   document
shipment
of
material     by  government-owned
vehicles.    When   it   is
necessary   to  make  a shipment    of material    using   both
government   conveyance  and  commercial   carrier   service
requiring
a  GBL,    a  DD   Form    1384  is   used   for   the
government    conveyance   portion    of  the   movement,   and
a  GBL  is  used  for  the  commercial   portion.
SHIPMENT
MARKING
Each  unit   package,  intermediate    package,  shipping
container,     and   all   items   shipped    unpacked    must   be
clearly   and  adequately   marked  as per  the  requirements
of the  

Military
Standard
Marking
for   Shipment
and
Storage,
MIL-STD
129,  as  amended.   An   exception    is
that   marking    requirements    for  supplies   purchased   for
local
consumption
may     be    specified
by    the
requisitioning
activity.
All   shipments     moving   within
the   DTS   require    a
standard   method  of marking   and  labeling   to  make  sure
of the  timely   movement  and  delivery   of materials   to  the
consignee.  The  shipment   activity    must   assure  that   the
appropriate    marking    or  labeling    is  applied.   DD  Forms
1387,  1387-1,   and  1387-2  are  given   in  figure    9-11  as
examples  of the  shipment   labels  and  tags  required  under
MILSTAMP.
Other   special  markings   and  their   use  are
described   in   NAVSUPINST
4610.32.
9-13