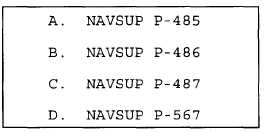 A S S I G N M E N T
2
Textbook Assignment: "Administration—continued, chapter 3, pages 3-2 through 3-l6; "Material Identification: chapter 4,
pages 4-1 through 4-17; "Procurement," chapter 5, pages 5-1.
Learning Objective:

Specify the factors to be considered
in planning the arrangement of a supply office and the
skills  required  for  assignment  to  the  supply  office
(continued  from  assignment  1).
2-1. Stand-alone display text editors which have been
electrically  linked  to  a  central  processing  unit  (CPU)
are known by which of the following terms?
1.
2.
3.
4.
Intelligent  typewriters
Blind-keyboard  word  processors
Thin-window word processors
Shared-logic system
2-2. The number of work stations and printers in each
shared-logic  system  depends  on  which  of  the  following
Criteria?
1. Number of personnel assign
2. Size of the work space
3. Both 1 and 2 above
4. Power of the CPU
2-3. Stand-alone display text editors provide the user with
which of the following capabilities?
1. Math processing only
2. Magnetic recording only
3. Move, delete, or insert words, sentences, or
paragraphs only
4. Move, delete, insert words, sentences, paragraphs,
math processing, and magnetic recording
2-4. Latent impressions can contribute to compromise of
classified   information.
1. True
2. False
2-5. Close controls over the use of the fastcopy machines
should be established to prevent which of the following
undesirable   results?
1. Unnecessary cost
2.  Security  abuses
3. Both 1 and 2 above
4. Use by other departments
Learning Objective:

Identify some of the principal
supply  publications  used  afloat  and  indicate  their  purpose
and general content.
2-6.  On  matters  pertaining  to  supply  procedures,  a
Storekeeper would most likely refer to what
references?
1. NAVSO Manuals
2. NAVSUP Manuals
3. Navy Regulations
4. Generals Orders
2-7. Minimum procedures for the operation of supply
departments on ships are contained in what reference?
1. NAVSUP Manual, Volume 1
2. NAVSUP P-485
3. NAVSUP P-484
4. NAVSO P-3073
Figure   2A.—Publications
IN ANSWERING QUESTIONS 2-8 THROUGH 2-10,
SELECT THE PUBLICATION FROM FIGURE 2A FOR
THE TITLE USED AS THE QUESTION.
2-8. Shipboard Uniform Automated Data Processing
System-207  Support  Procedures.
1. A
2. B
3. C
4. D
9