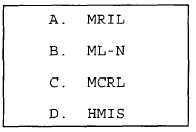 Figure   2C.—Publications
IN ANSWERING QUESTIONS 2-55 THROUGH 2-57,
SELECT FROM FIGURE 2C THE PUBLICATION YOU
CAN FIND THE INFORMATION LISTED AS THE
QUESTION.
2-55.  Cross  reference  information  listing  from  part  number
to  NSN.
1. A
2. B
3. C
4. D
2-56.  A  listing  of  items  that  must  be  turned  in  for  repair
when  they  fail.
1. A
2. B
3. C
4. D
2-57.  A  listing  of  potentially  hazardous  items.
1. A
2. B
3. C
4. D
2-58. The letter "O" appearing in the repair maintenance
column of the MRIL gives you what information about
an item?
1. Some repairs are possible at organizational or
intermediate   level
2. Some repairs are possible at the intermediate level
only
3. No repairs are to be attempted at the organizational
or  intermediate  level
4. All repairs are to be accomplished at the
organizational  or  intermediate  level
2-59.
2-60.
2-61.
2-62.
2-63.
2-64.
The  ASG  contains  all  except  which  of  the  following
information?
1.  Descriptive  data  and  illustrations
2. NIIN index, which also indicates availability of the
item from the mobile logistics support forces
3. Item numbers used for cataloging purposes
4.  Stock  number  of  substitute  items
The MCRL is used to provide a cross-reference
between which of the following items?
1.
2.
3.
4.
Noun names and FSCs
Reference  numbers  and  NSNs
NIINs and item numbers
FSCs  and  NIINs
The  commercial  and  government  entity  (CAGE)  is
used by the SK to carry out which of the following
functions?
1.
2.
3.
4.
Determine the correct manufacturer to be used with
the NIIN having more than one reference number
listed in the MCRL
Determine the correct NIIN when the reference
number in the MCRL is used with more than one
NIIN
Select the NIIN from the MCRL showing the
CAGE for the manufacturer that made the needed
part
All of the above
Which of the following three parts of the CAGE is/are
published on microfiche?
1. H4-1 only
2. H4-1 and H4-2 only
3. H4-2 and H4-3 only
4.  H4-1,  H4-2,  and  H4-3
The  laundry  tumbler  manufactured  by  the  American
Laundry Machinery Industries uses a V-belt made by
which of the following manufacturers?
1. SKF Industries
2. Browning
3.  American  Laundry  Machinery  Industries
4.  SKF  Browning  Industries
The  NSN  and  correct  CAGE  for  the  part  numbers
listed in a NAVSEA Technical manual can be obtained
from  which  of  the  following  publications?
1. MCRL
2. NMDL
3. CAGE and MCRL
4. MRIL
14