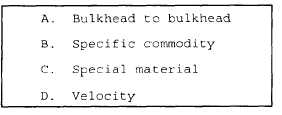 Figure  4B.—Types  of  inventory
IN ANSWERING QUESTIONS 4-54 THROUGH 4-57,
SELECT THE TYPE OF INVENTORY FROM FIGURE 4B
THAT IS USED FOR THE ONE DESCRIBED AS THE
QUESTION.
4-54. An inventory of all pipe fittings.
1. A
2. B
3. C
4. D
4-55. An inventory of all fast movers.
1. A
2. B
3. C
4. D
4-56. An inventory of all items in a storeroom.
1. A
2. B
3. C
4. D
4-57. An inventory of all storeroom items listed in the
HMIS.
1. A
2. B
3. C
4. D
4-58. From the statements below, select the one that best
dcscribes the purpose of an inventory.
1. To dispose of obsolete stock
2.  To  rearrange  the  stowage  plan
3.  To  bring  stock  and  stock  records  into  agreement
4. To consolidate all multiple locations
4-59. To record inventories of non-SIM items the storeroom
Storekeepers may use all except which of the
following  documents  as  iventory  count  documents?
1. EAM cards
2. NAVSUP Form 1114
3. NAVSUP Form 1075
4.  Prepared  stock  listings
4-60. When it becomes necessary to open a sealed container
to verify its contents, the container should be left open
to  make  future  issues  easier.
1.  True
2. False
4-61. Before count documents are matched with stock
record cards, they should be reviewed to ensure that
all except which of the following checks have been
made?
1. Entries are legible
2.  items  scheduled  for  inventory  show  the  present
quantity  in  stock
3.  Count  documents  arc  dated  and  initialed
4. Incorrect prerecorded locations have been deleted
4-62. Promptly upon the completion of the physical
inventory, the count documents for stock repair parts
being  inventoried  must  be  reviewed  by  which  of  the
following members of the ship's company?
1.  Inventory  personnel
2. Supply officer only
3. Engineering officer only
4. Supply officers and engineering officer
4-63. After the review of the count documents is finished,
which of the following actions should be the next step
in the inventory process?
1. Applicable count documents should be dated and
initialed
2. The inventory physical count should be completed
3. Inventory count documents should be reconciled
with the stock records
4. Reverify the location of each item
28