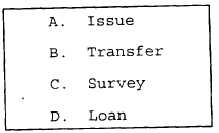 5-10. When a receipt shortage exceeds $100 per line item,
what action, if any, should you take?
1. Make out a dummy credit invoice for shortage
2. Reject and return the shipment to the originator
3. Report the shortage as a receipt discrepancy
4. No action is required unless shortage involves
controlled   equipage
5-11.  Which  of  the  following  receipt  shortages  should  be
resolved  directly  with  the  supplying  activity?
1. Navy owned material received during UNREP only
2.  Navy  owned  material  received  from  a  NSC  only
3. Navy owned material received from GSA
4. Navy owned material received during UNREP or
from an NSC
5-12. After a receipt has been posted to the stock record, the
receipt  document  should  be  forwarded  to  which  of  the
following  ship's  personnel?
1.
2.
3.
4.
Requisitioning     Storekeeper
OPTAR  records  Storekeeper
ACCESS  records  Storekeeper
Records and reports Storekeeper
5-13. The total quantity of material requested has NOT been
received, and no suffix code has been entered in
column 44 of the receipt document, What does this
indicated?
1. Requisition is considered to be completed
2. Requisition is considered to be incomplete
3.  Remaining  material  will  be  forwarded  as  required
4.  Quantity  not  received  has  been  back-ordered
5-14. Which of the following actions should be considered
an objective of inventory control procedures used
afloat?
1. Focus attention on the relatively few items that
will satisfy the majority of demands for material
2.  Increase  physical  inventory  requirements  and  allow
for individual physical inventory procedures
3. Increase the number of stock record management
data changes required to be made by nonautomated
ships
4. Each of the above
Learning  Objective:   

Define  expenditure  and
differentiate  between  the  various  types  of  material
expenditures.
5-15. All actions that result in a decrease to Navy assets can
be described as what types of transaction?
1.  Transfer
2. Surveys
3. Issues
4.  Expenditures
Figure  5B.—Expenditure  Documents
IN ANSWERING QUESTIONS 5-16 THROUGH 5-19,
SELECT FROM FIGURE 5B THE TYPE OF
EXPENDITURE  INVOLVED  IN  EACH  SITUATION
LISTED AS THE QUESTION.
5-16.
5-17.
5-18.
Movement of material from the custody of one supply
officer  to  the  custody  of  another  supply  officer
1. A
2. B
3. C
4. D
Storeroom material is expended for use by the
engineering   department.
1. A
2. B
3. C
4. D
A typewriter is dropped and damaged beyond repair.
1. A
2. B
3. C
4. D
31