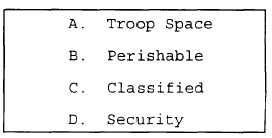 Learning  Objective:
State  the  procedures  for  classifying
material, methods of shipping material, and procedures for
preparing material for shipment.
8-49.  Which  of  the  following  publications  contains  specific
instructions for articles requiring special packing or
unusual  precautions  in  handling?
1. NAVSUP P-484
2. DOD Regulations 4500.32R
3.  MIL-STD  128-C
4. NAVSUP P-422
8-50. Which of the following methods of shipment is
referred to as a commercial carrier method by
shipping    authorities?
1. Government air service only
2. Air freight only
3. Federal Express only
4. Air Freight and Federal Express
8-51. Levels of protection are identified as A, B, and C and
are  marked  on  exterior  containers.  What  level  of
protection must be given repairables?
1. A/A
2. C/A
3. C/C
4. B/C
Learning  Objective:    Identify  various  shipping  priorities
and different types of shipment.
8-52.  The  basic  objective  of  UMMIPS  time  standards
established by DOD Instruction 4410.06 is to satisfy
customer  requirements  on  time  without  overriding
cost  factors.
1.  True
2. False
8-53.  Requisitions  with  which  of  the  following  UMMIPS
PDs could qualify for EXPEDITED HANDLING
provided  an  accurate  RDD  was  used?
1. 03
2. 08
3. 12
4. 14
8-54. Transportation priority is assigned to shipments via
Military Airlift Command (MAC) aircraft on a space-
available  basis?
1. TP1
2. TP2
3. TP3
4. TP4
8-55. Air shipments of material may be made on items with
which of the following priority designators(PDs)?
1. 3 only
2. 8 only
3. 15 only
4. 3,8, and 15
8-56. Cargo that may be referred to as label cargo is known
by which of the following terms?
1. Dangerous
2.  Security
3. Classified
4.  General
Figure 8C.—Cargo classification
IN ANSWERING QUESTIONS 8-57 THROUGH 8-60,
SELECT  FROM  FIGURE  9B  THE  CLASSIFICATION  OF
CARGO  LISTED  AS  THE  QUESTION.
8-57.
8-58.
High-value,  technical  equipment.
1. A
2. B
3. C
4. D
Shipments safeguarded in accordance with
OPNAVINST   5510.1.
1. A
2. B
3. C
4. D
56